This Glazed Praline Salmon recipe is easy enough for weeknight, but impressive enough for a dinner party! Pecans, brown sugar and lemon juice form an easy glaze for this broiled salmon recipe.
Sometimes, my Missouri shows. I can't help it. You can leave it to me to take a beautiful piece of fresh salmon and essentially top it with the best part of pecan pie, and make Glazed Praline Salmon.
I'm sorry and you're welcome (should this be my new tagline)? Is it any consolation that it's delicious? My son calls this "salmon candy," and my Mom loves it so much she submitted it to our church cookbook!
Most people associate pecans with the South, but Missouri actually has plenty of pecan production going on! My husband smokes meat with pecan wood (try it!) and I incorporate them into recipes as much as possible, like this baked brie, this salad, or these easy candied pecans.
Growing up, pecan pie was always a treat and even now in Kansas City, I see pecans used on menus constantly!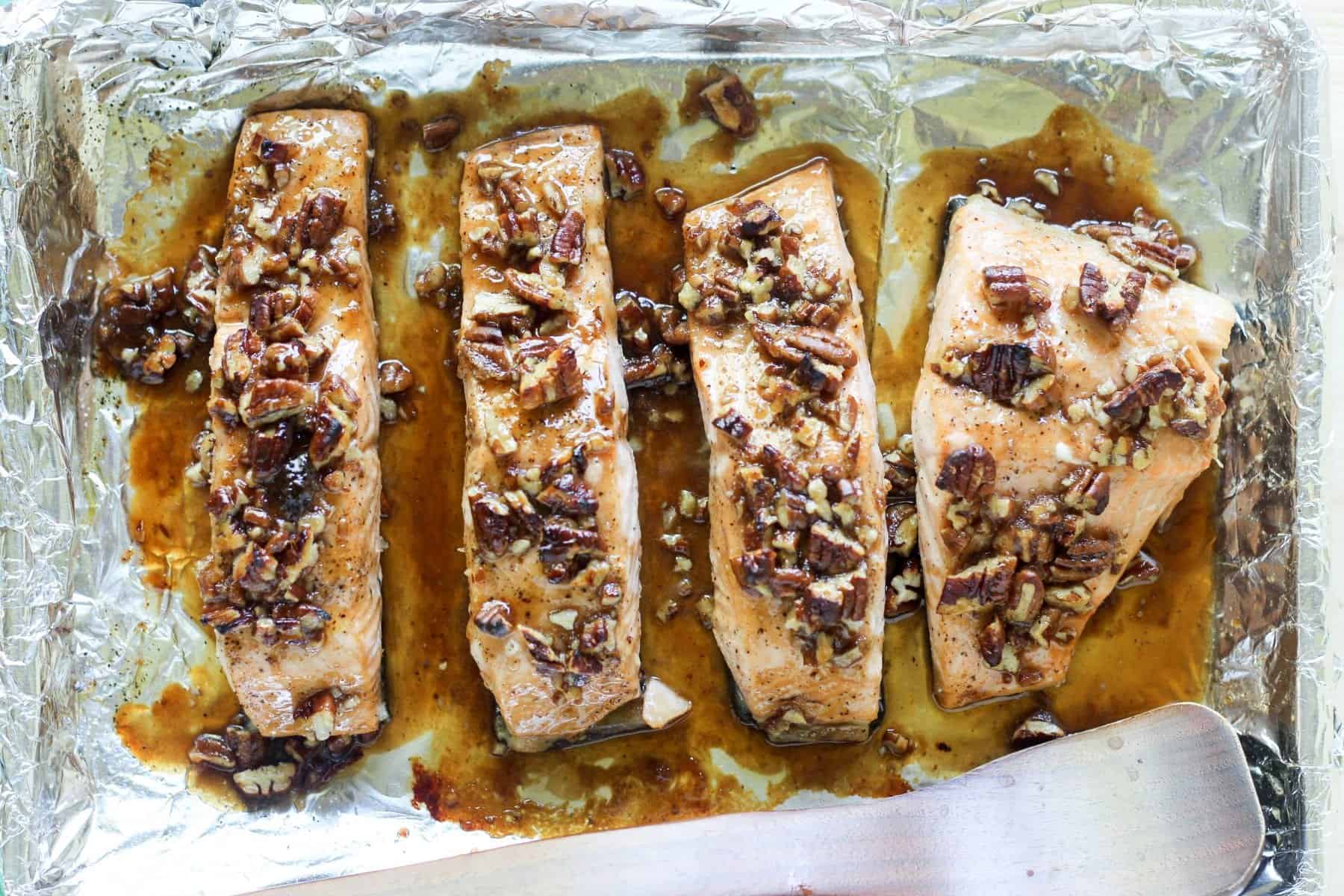 When you make this Glazed Praline Salmon, I'd really recommend starting with fresh salmon if you can swing it. I won't weigh in on farm vs. wild caught salmon, because I live in the center of the country.
Honestly, we're happy for whatever we can get, but I really love fresh, wild caught salmon when it's available to us. There are a few things to consider doing when you make this recipe.
I like to line my baking tray with aluminum foil and spray with pan coat to make clean up a breeze. Then, I season the salmon with salt and pepper, and place it skin side up on the aluminum foil lined tray. A quick broil on each side, then a final broil with the glaze mixture, and you're done!
You don't want the pecan glaze to burn at all, but it's does need to be melted through! The praline glaze will melt into the pan a bit, so make sure to scoop up all the yummy bits and top the praline salmon with it.
Love this recipe? I think you[ll also love my Herb Crusted Salmon and this Jerk Salmon recipe!
Praline Glazed Salmon
Ingredients
2 5-6 ounce salmon filets
salt and pepper
For the glaze
¼ cup chopped pecans
3 tablespoons packed dark brown sugar
2 tablespoons butter, melted
1 tablespoon lemon juice
Instructions
Rinse salmon with cold water and pat dry with a paper towel. Sprinkle with salt and pepper and place on a lightly greased baking sheet. Set oven to broil on high.
In a small, separate bowl, mix the pecans, brown sugar, melted butter and lemon juice
Place baking tray with salmon in oven on top rack under the broiler. Broil for 5-6 minutes. Remove from oven, turn fish over. Return to oven, broil for another 2-3 minutes.
Remove salmon from oven and spoon pecan mixture over top of filets. Return to oven and broil for a final 1-2 minutes. Make sure the nuts do not burn.
Check for done-ness of salmon (I cut a filet to check that it's to my liking).
You can pin this recipe by clicking the image below!