Make these Baked Baja Fish Tacos for your family! The fish is quickly marinated then baked to perfection. Includes a simple fish taco sauce recipe!
I can't believe that I've been blogging for almost 6 years, and I haven't shared this Baked Baja Fish Tacos recipe! It's been a staple in our house for as long as I can remember. I've certainly shared plenty of taco recipes over the years; Easy Lobster Tacos, Easy Flank Steak Tacos, Chili Crispy Shrimp Tacos with Cilantro Slaw and Adobo Pork Street Tacos! But, not my favorites, baja fish tacos!
Most of the flavor in this Baked Fish Tacos recipe comes from the quick marinade we use for the fish. The marinade is quick to put together using mostly pantry ingredients and a hefty dose of lime juice! You'll only need about 30 minutes to marinade the fish for these Baja Fish Tacos.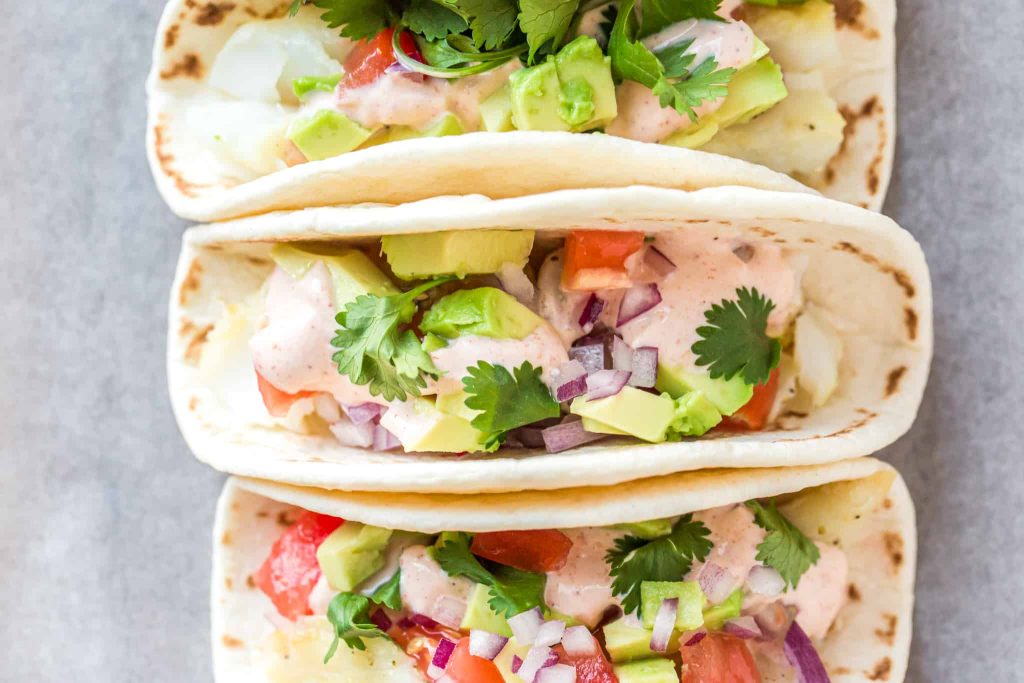 For the fish in these fish tacos, I used cod. Cod is super easy to find and mild in flavor, it will take on the flavor of the marinade and spices you use! If you can't find cod, you can use salmon, tilapia or any other mild, flaky fish!
The Best Toppings for Fish Tacos
You have complete flexibility choosing your favorite toppings for these Baja Fish Tacos! But, there are a few toppings that will pair perfectly. I recommend:
avocado
tomato
red cabbage
black beans
corn
red onion
feta cheese
cotija cheese
chopped cilantro
While your marinated fish is baking, whip up the easy fish taco sauce recipe! You will need sour cream, plain Greek yogurt, hot sauce and taco seasoning. If you don't have taco seasoning on hand, you can easily make your own at home with just a few spices!
Sometimes, I like to add a squeeze of lime juice to the fish taco sauce. Taste it first, and add it if you think it needs some extra acidity!
I hope that these Baja Fish Tacos find their way into your weeknight dinner rotation. Happy new year, friends!
Baked Baja Fish Tacos
Ingredients
3 tablespoon butter, melted
1 teaspoon lemon pepper
1 teaspoon garlic powder
1 teaspoon onion powder
1 teaspoon salt
2 tablespoon lime juice (about one lime)
16 ounces of cod (around 3-4 fillets)
12 flour or corn street taco tortillas or 4" tortillas
For the white sauce:
½ cup sour cream
¼ cup plain Greek yogurt
1 teaspoon hot sauce
½ teaspoon taco seasoning
Optional garnishes: avocado, tomato, red cabbage, black beans, corn, red onion, feta cheese, cilantro
Instructions
Preheat the oven to 375 degrees Fahrenheit and prepare a sheet pan with parchment paper or cooking spray.
Combine butter, lemon pepper, garlic powder, onion powder, paprika, salt and lime juice in a bowl. Whisk to combine and to a gallon-sized Ziploc bag.
Add fish fillets to bag. Seal the bag and allow to marinade for 30 minutes.
Then, place marinated fish fillets on the sheet pan. Bake for 20-25 minutes, or until the fish is opaque and cooked through.
While the fish bakes, prepare the sauce by mixing together sour cream, Greek yogurt, hot sauce and taco seasoning. Set aside.
Remove the cooked fish from the oven and use a fork to break the fish into 1-inch pieces.
Heat the tortillas by placing them in an oiled medium-hot skillet for 15-20 seconds per side.
Assemble the tacos with tortillas, fish, sauce and desired garnishes.

Notes
The fish will keep in the refrigerator for up to 3 days. Make sure to store all components separately if you don't plan to consume all of the tacos immediately!