Buffalo Chicken Soup ready in about 20 minutes! This "Hot Wing Soup" will become one of your family's favorites!
I crave buffalo flavored things all the time. GOD HELP ME if someone brings buffalo chicken dip to a party. I stand there and just shovel it into my face. Or these Buffalo Chicken Tortilla Pinwheels. It's embarrassing, but I can't get enough of the buffalo flavor. A few weeks ago, I attended a chili cook-off party, and someone brought Buffalo Chicken Chili. Can you guess what happened? Oh yes. More shoveling. But here's the good thing. It led to this awesome, FAST Buffalo Chicken Soup recipe!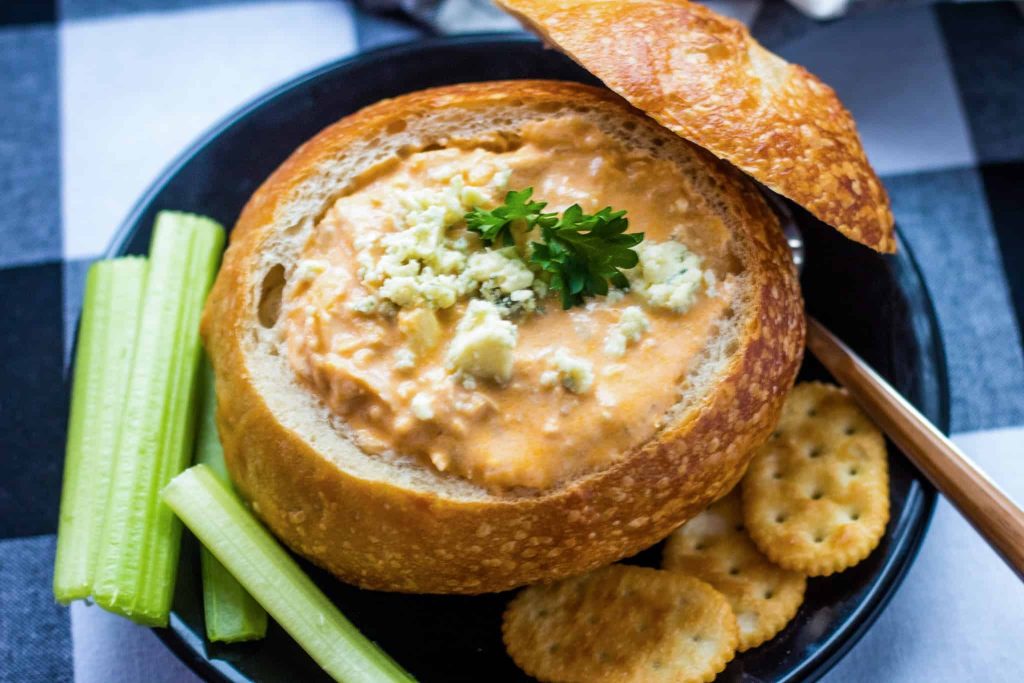 We're not playing around here folks. You need Buffalo Chicken Soup, and you need it now. No crockpot, no waiting for hours until it's done!
This hot wing soup recipe is absolutely the most expedient way of getting some delicious buffalo chicken soup goodness in your life!
To make this hot wing soup quickly, I'm relying on a shredded rotisserie chicken. If you want to use raw chicken that you have on hand, there are instructions to do so below.
It will add some time to cook the chicken,but it's always good to use up what you have, so kudos to you!
This is what I would consider a "base" recipe. Please customize this soup according to your tastes! Here are a few suggestions to customize this delicious soup recipe!
Add diced tomatoes. Saute along with the celery and onions.

Drizzle with ranch dressing before serving.

Dressing with blue cheese dressing before serving.

Add ⅛ tsp of cayenne pepper or ¼ tsp paprika

Add a drained can of pinto beans along with the broth

Top with cilantro or fresh parsley

Serve in a bread bowl. Yum!
You will need hot sauce for this recipe. Add it to your Amazon cart here!
Yield: 4
Buffalo Chicken Soup
Ingredients
1 tsp vegetable oil
1.5 cups celery, chopped
½ cup white or yellow onion, chopped
¼ cup flour
1.5 tsp garlic powder
½ tsp thyme
1 rotisserie chicken shredded*
6 cups chicken stock
½ cup Frank's Red Hot
6 oz. cream cheese, cubed
8 oz. crumbled blue cheese
1 cup cheddar cheese, shredded
⅛ tsp black pepper 
¼ tsp salt
Instructions
1. Add vegetable oil to large soup pot and heat on medium-high.
2. Add celery and onions, saute for 2-3 minutes, stirring frequently until they begin to soften.
3. Add flour, garlic powder and thyme and stir well to combine with sauteed vegetables. Add broth and allow to simmer for 5-10 minutes.
4. Remove pot from burner. Add shredded chicken, Frank's Red Hot, creamy cheese, cheddar cheese, 4 ounces of blue cheese. Stir well to combine.
5. Return pot to low, gentle heat. Allow to come to a slow simmer stirring frequently. Once cheeses are added, do not allow to boil. Serve warm.
Notes
*If you'd prefer to use raw chicken, substitute 4 chicken breasts. Cube into large pieces and add along with chicken stock. Allow to simmer for 30-40 minutes, then remove chicken from the pot and shred. Re-add the chicken along with the hot sauce and cheeses.