Learn how to make a grazing table for up to 40 people! Includes a shopping list for all of the grocery items you will need.
Ready to upgrade your charcuterie board game? The first time I made a grazing table for a party, I was hooked! Grazing tables are a super fun way to provide dinner or snacks for a larger group, even weddings! Learning how to make a grazing table is easy, it just takes time, and a little preparation.
Decide the location of your grazing board
A sanitized countertop is a great option for your grazing board. The one pictured stretched about 7 feet wide, and a little bit over 1 foot wide.
You can choose to lay butcher paper or parchment paper down, or put the items directly on the countertop. I chose to use parchment paper for each clean up. I did have to use a double layer of parchment, because one layer was not quite wide enough.
If you don't have a countertop available to you, consider using a portable card table.
Ideally, guests will be able to graze from both sides, but that isn't always possible.!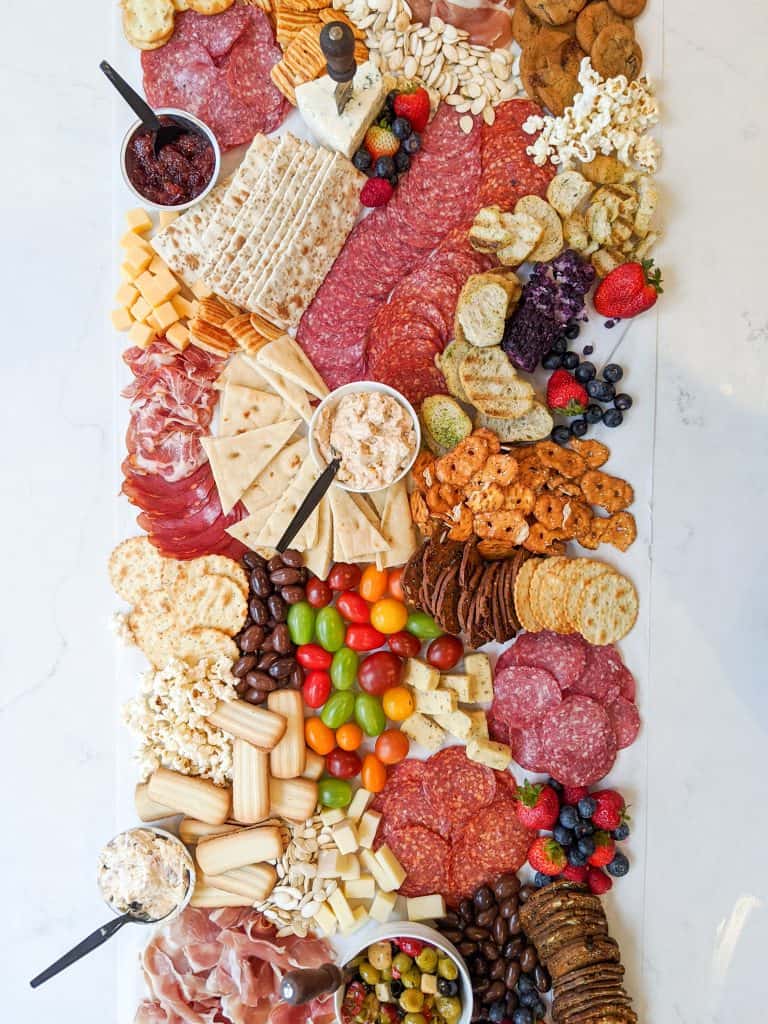 Shop for your grazing table ingredients
Now, it's time to get shopping! The ingredients for a grazing table can be expensive. My secret weapon? ALDI!
Aldi has wonderful specialty cheeses and cured meats. They also have a good assortment of crackers, fruits and nuts. It's a great place to start your shopping!
The ingredients for the spread pictured cost around $200, totally from Aldi! That makes the cost for feeding folks at this gathering around $5 per person, since there were 40 guests. Not bad!
The shopping list at the very bottom of this post is designed to be DINNER for 40 people. If you're serving dinner in addition to your grazing table, cut the list in HALF to have the right amount of appetizers for 40 people.
You don't need to splurge on every single ingredient. Buy staples that everyone enjoys, and just a few special high end cheeses or meats to mix throughout your grazing board.
How to arrange your Grazing Table ingredients
Arranging the ingredients on your grazing table is truly more of an art than a science. Because of that, I've included suggestions below, but want to encourage you to do what feels best!
Add height: Add 1-2 serving small plates or serving trays. If you have a pedestal server, this is a great time to use it! Place 2-3 small bowls for dips and nuts.
Dips and jams: Place these in small bowls or in their original containers, with a small spoon.
Add cheese: Cheese is truly the star of charcuterie tables, although charcuterie technically means meat! It is ALWAYS the first thing to be eaten!

Place a variety of sliced and whole chunks of cheese on the table.
If you place a whole chunk of cheese (like a wheel of brie, or blue cheese wedge), make sure you have a cheese knife placed by it, and slice the first slice. People are typically timid about being the first ones to cut into a whole piece of cheese!
Arrange sliced cheeses in both tall piles and lines for visual interest.

Add fruit and veggies: I typically add fruit and veggies next because I want to make sure that there is COLOR interspersed throughout the grazing table. If you hold these items until last, you'll have to squeeze them into the empty spaces.
Add meat: Now, it's time to add the meat! I like making tall piles of salami circles. You can also lay meat slices next to your lines of cheese slices, or in a circle around a chunk of cheese. Make a few salami roses for visual interest, if you have time!
Add everything else: Now, add nuts, desserts and crackers. Fill in all of the gaps and any empty serving trays that you have left. If you don't have space for all of these, no worries! You can replenish them throughout the night.
In addition to the food, there are just a few non-food items you may need to complete your grazing table:
Toothpicks: Place these close to olives or other small items that can be skewered.
Serving tongs: Place these around the edges so that your guests can grab their items hands free.
Small plates: Enough for each of your guests to have two rounds of charcuterie.
Napkins: Cocktail sized napkins work great!
Spoons: 1 for each dip, jam or mustard.
Cheese knives: 1 for each whole block of cheese you plan to serve. I typically leave brie and blue cheese wedges whole.
Finally, remember to give yourself enough time to get the board together! For the grazing table pictured in the post, it took my husband and I about 1 hour total to get everything set.
And remember, cheese can sit out at room temperature for about 4 hours. So, set the timer and encourage your guests to enjoy the grazing table when the arrive!
Grazing Table for 40: Grocery List
This ingredient list provides enough charcuterie to provide DINNER for 40 people. If you are serving dinner in addition to this grazing table, halve the ingredients listed to provide a hearty spread of appetizers.
10 ounces goat cheese
Plain, herbs or fruit covered
50 ounces affordable cheese
Cheddar, colby jack, gouda
25 ounces specialty cheese
Blue cheese wedges, aged cheddar, truffle cheese, wine soaked cheese, manchego or other spanish cheeses, port salut, fontina
40 ounces affordable meat
Sliced salami, summer sausage
20 ounces specialty meats
Prosciutto, speck, capicola, iberico ham, sliced chorizo
2 varieties of jam and/or mustard
Fig jam is always great. I also love sour cherry or blueberry if you can find it. Whole grain mustard works well!
20 ounces nuts
Spiced, candied or chocolate covered
8 ounces olives or pickled goods
If your store has pickled peppadew peppers, they're always a hit! As are blue cheese stuffed olives.
24 ounces prepared dips and spreads
Spinach artichoke dip, dill dip, etc.
80 ounces crackers, crostinis and flatbreads, assorted
20 ounces berries
Strawberries, blackberries, blueberries, raspberries, grapes
20 ounces vegetables
Grape tomatoes, sliced carrots, sliced celery, broccoli florets, cauliflower florets, sliced peppers.
15 ounces dessert
Chocolate covered pretzels, small cookies, bite sized brownies, truffles.