Old Fashioned Ham and Cabbage Soup
Old Fashioned Ham and Cabbage Soup is ready in about 45 minutes! This soup recipe is a great way to use up leftover ham, is gluten free and keto friendly.
Staying at home this year has proved to be a challenge in so many ways!  One thing that been a particular challenge for me is groceries! I am having to be more resourceful and use what I have, considering limited inventory in the stores. This is a bit hard for me. I'm "that person" that goes to the grocery store 5 times a week! But, I'm getting there. Last week, I found myself the proud owner of two heads of cabbage and quickly learned that my family can only tolerate so much coleslaw. So, I whipped up this Ham and Cabbage Soup (with potatoes)!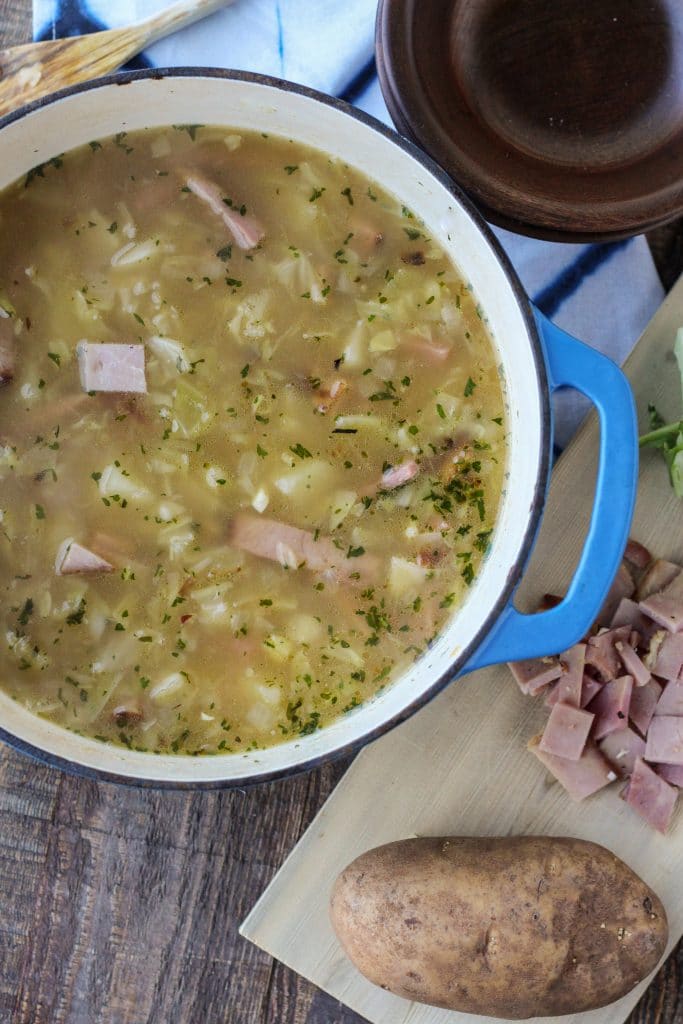 This Ham and Cabbage Soup actually took care of two problems for me; leftover ham from Easter, and my overabundance of cabbage!
I was surprised at how easy it was. It's a hearty, simple soup but the ham gives it a LOT of good flavor! 
If you'd like to customize this soup with additional vegetables, dice them small and add them alongside your onions. Carrots, celery, peas, mushrooms and green beans would all be welcome additions!
To make this soup keto friendly, simply omit the potato. Instead of potato, try diced mushrooms!
If you have a leftover ham bone from your ham, keep it! You can use it to make simple ham stock, and replace the stock in this soup with your homemade stock. I think ham stock is one of the simplest and tastiest stocks you can make at home.
If you love this Ham and Cabbage Soup, I think you'll also enjoy:
Old Fashioned Ham and Cabbage Soup
Yield: Serves 3-4
Prep Time: 15 minutes
Cook Time: 30 minutes
Total Time: 45 minutes
This Old Fashioned Ham and Cabbage Soup (with potatoes) is a great way to use up leftover ham!
Ingredients
2 teaspoon olive oil
1 large yellow onion, diced
1 clove garlic, minced*
6 cups chicken or vegetable stock
½ teaspoon black pepper
⅛ teaspoon dried mustard
2-3 cups cabbage, finely shredded
2 russet potatoes, peeled, cubed
1.5 cups ham, cubed into bite sized pieces
For garnish:
2 teaspoons parsley, dried
½ teaspoon caraway seed
1 tablespoon green onion, diced
Instructions
Add olive oil to large saucepot and heat on medium high heat.
Once oil is heated, add onions and garlic and sauté for 2-3 minutes.
Add broth, black pepper, dried mustard, cabbage, potato and ham to the pot, stir well to combine.
Bring it to a boil, cover the pot, and reduce to low heat. Allow to simmer for 30 minutes.**
Uncover the soup, and stir in parsley, caraway seeds and green onion.
Serve hot!
Notes
*Or, add 1 tsp garlic powder along with the black pepper.
**After the potatoes are tender, you can choose to lightly mashed them by gently working a potato masher through the soup. This will help to thicken the soup naturally. Totally optional!
Nutrition Information
Yield 4
Serving Size 1
Amount Per Serving
Calories 692
Total Fat 32g
Saturated Fat 8g
Trans Fat 0g
Unsaturated Fat 20g
Cholesterol 223mg
Sodium 833mg
Carbohydrates 36g
Fiber 7g
Sugar 10g
Protein 66g
The nutrition for this recipe is calculated by an app and may be incorrect.