Last Updated on
The holidays are here, and I hope that means you're planning to make a ham! I
absolutely love making hams for the holidays because they are so easy to make. You just pop them in the oven at 275 degrees for about 10 minutes per pound, then brush a glaze on. Smithfield has sponsored this post today, where I'm sharing all of the best recipes for using your leftover ham! My favorite ham to use is Smithfield Signature Spiral Sliced Ham, and the leftovers are just as yummy. You can find some tips on preparing your holiday ham here!
Leftover ham doesn't have to just be used on sandwiches, although that's delicious and easy! I've put together my favorite leftover ham recipes. From pizza, to fritatas and soup, you won't get bored if you use these recipes to use up this year's leftover ham!
Here are my favorite leftover ham recipes in no particular order…
Frittatas are the perfect one pan breakfast meal. This one is packed with leftover ham!
Leftover Ham and Potato Soup is an easy and delicious way to use up leftover ham and potatoes to make a creamy, comforting fall or winter soup.
This bbq Hawaiian pizza is the perfect use for all that leftover ham. Tangy bbq sauce topped with melted cheese, red onions, pineapple and ham. You'll love how easy this is to throw together PLUS it's ready in just 25 minutes!
Need a little help in the mornings? Ham and Cheese Waffles can be made and frozen ahead of time, making them ready for breakfast in minutes. Ideal to serve for breakfast, brunch, and brinner.

Ham & Cheese Tortellini – use that leftover ham to make this easy creamy tortellini dinner in 20 minutes! Great one pan meal any night of the week!
This simple ham cheddar cranberry melt sandwich is the perfect way to use up leftover Christmas ham. A perfect balance of sweet, salty and cheesy.
A Gluten Free French Bread Ham Breakfast Strata recipe that's easy-to-follow and will please everyone! Yes, it does exist! A Breakfast Casserole you can make ahead or bake in 30 minutes.
This ham salad can be served up on crackers as a spread or on a sandwich, either way it will be gobbled down.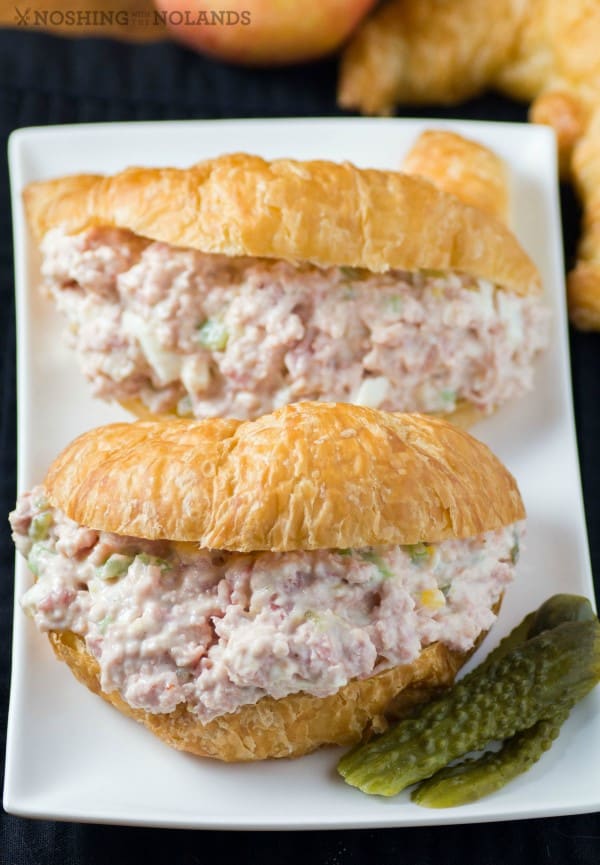 Smithfield has several wonderful recipes that use their leftover ham. You can find them here.
I hope that you enjoy these leftover ham recipes! Smithfield also inspired me to try a bacon bar bar this year, so I also put together a great list of bacon recipes for the holidays, which you can view here. Smithfield has their own site dedicated to all things Bacon Bar, which has great recipes and printables! AND, if you try one of these delicious leftover ham recipes, let me know in the comments!
This is a sponsored post written by me on behalf of Smithfield.