This Skillet Chicken Breast recipe is a family favorite! Made with boneless skinless chicken breast and a maple mustard glaze.
I think you know that I'm here for the easy recipes. In fact, that's why I started this blog, to share recipes that work for weeknights. I've shared quite a few weeknight chicken dish recipes lately, like this Asian Chicken Rice Bowl and this Sriracha Chicken with Mango Salsa. Easy chicken recipes are a staple for us, but I always try to add a TON of flavor to my chicken dinners for my husband, who loves bold flavors and does not love white meat chicken that much!
"Absolutely delicious and super easy! Will be making this again...even For company!"- Daverne, Pinterest User
I've been crazy busy lately, which means I don't have a ton of time to make dinner!
Last week, I decided I needed to actually cook a hot meal, and this easy pan seared chicken breast fit the bill! I used restaurant techniques to quick sear the boneless skinless chicken breasts in the skillet for a perfect golden brown crust (which makes for juicy chicken), and finished with a super easy maple and Dijon mustard glaze! I paired this with a super easy pre-made salad, making this easy chicken recipe a great recipe for busy weeknights!
I developed this easy skillet chicken recipe using just the things I had on hand in the pantry! You will also need a large skillet, either a non-stick or cast-iron skillet, and about 12 inches in circumference to allow you enough room for all three chicken breasts.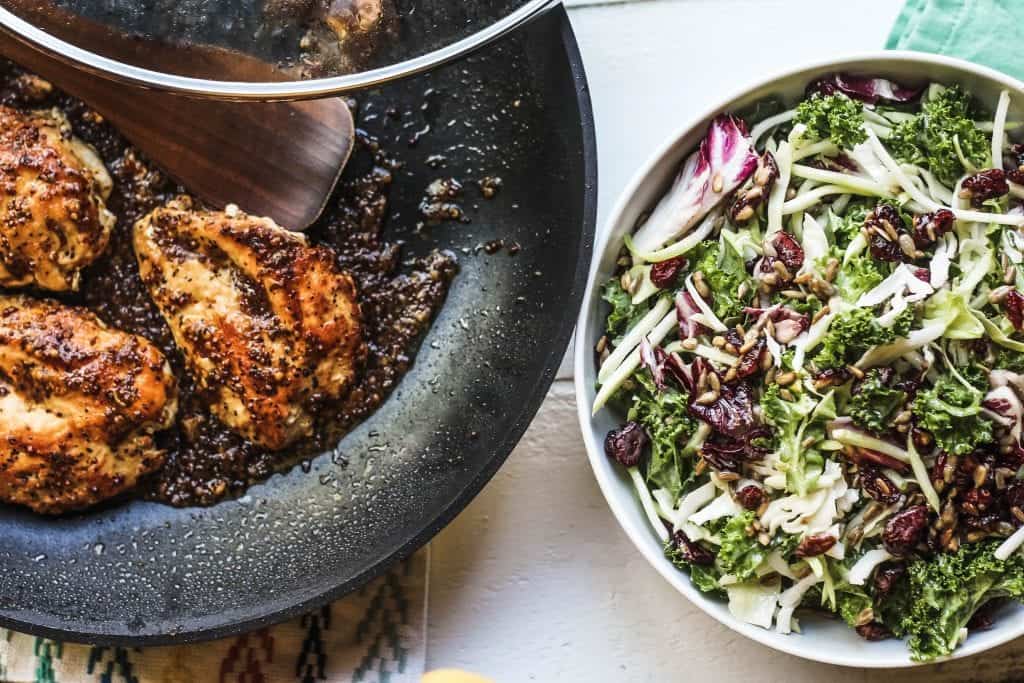 I am a HUGE fan of both bagged salads and pre-cut veggies, you know the kind you steam in the bag? Yeah, I like those. Because when I have these in the fridge, I KNOW they will get used. If I buy fresh green beans that need to be washed and snapped, they might go unused. And, I think that an easy bagged salad is the perfect pairing for this flavorful, moist chicken breast! Whip up a quick side salad to pair with your tender chicken, and you've got dinner!
Love this easy maple chicken? I think you'll also enjoy these recipes!
How to Make Maple Dijon Chicken (Maple Chicken):
Skillet Chicken Breast with Maple Mustard Glaze
This Skillet Chicken Breast recipe is a family favorite! Made with boneless skinless chicken breast and a maple mustard glaze.
Ingredients
2 teaspoon vegetable or olive oil
3 thin boneless skinless chicken breasts, fresh or totally thawed
⅛ teaspoon salt
⅛ teaspoon black pepper
3 tablespoon maple syrup
3 tablespoon Dijon mustard*
1 teaspoon garlic powder
pinch of cayenne pepper or red pepper flakes (optional)
Instructions
Add oil to large, 12-inch skillet or cast iron pan and heat oil medium high heat.
If you have thick chicken breasts (close to an inch thick at the widest part), either butterfly the breast to create two thing cutlets, or place the chicken in a bag and pound it thin with a meat mallet.
Pat chicken cutlets dry with paper towels and season generously with salt and pepper. Add chicken to hot skillet and allow to sear for 10 minutes. Do not move the chicken breasts while they are searing.
Flip them over and then cover with a lid. Allow to sear/steam for another 10 minutes.
Meanwhile, mix together the maple syrup, Dijon mustard and cayenne pepper in a small bowl. Using a brush, brush the maple mustard glaze onto the chicken breasts, flip, and do the same on the other side.
Allow to cook for another 1-2 minutes, until the glaze becomes sticky. Serve warm.
Notes
I usually use the whole grain/stone ground mustard, like Grey Poupon. Use what you have on hand!
You can sub honey for maple syrup if desired.