Last Updated on
Your entire family will love this Easy Skillet Maple Dijon Chicken recipe! Just 20 minutes in the pan with an easy Maple Dijon glaze. Plus, scroll to the end of the post for an awesome giveaway!
I think you know that I'm here for the easy recipes. In fact, that's why I started this blog, to share recipes that work for weeknights. I've shared quite a few weeknight recipe lately, like this Asian Chicken Rice Bowl and this Sriracha Chicken with Mango Salsa. Chicken is a staple for us, but I always try to add a TON of flavor to the dish so that it pleases my husband, who loves bold flavors.
Easy recipes aside, I need to whine a little bit. I'm tired. SO tired. September is my busiest month at the day job, and every year, it wears me out. I usually takes me until November to feel rested again! Food bloggers should never admit that they've been phoning it in for their family's dinners, but here I am, telling you all that for the last month, I've been struggling in a major way. We've done a whole lot of carry out and freezer meals lately. Last week, I decided I needed to actually cook a hot meal, and this Easy Skillet Maple Dijon Chicken fit the bill! I used restaurant techniques to cook the chicken in the skillet and finished with a super easy maple and dijon mustard glaze! I paired it with a super easy pre-made salad.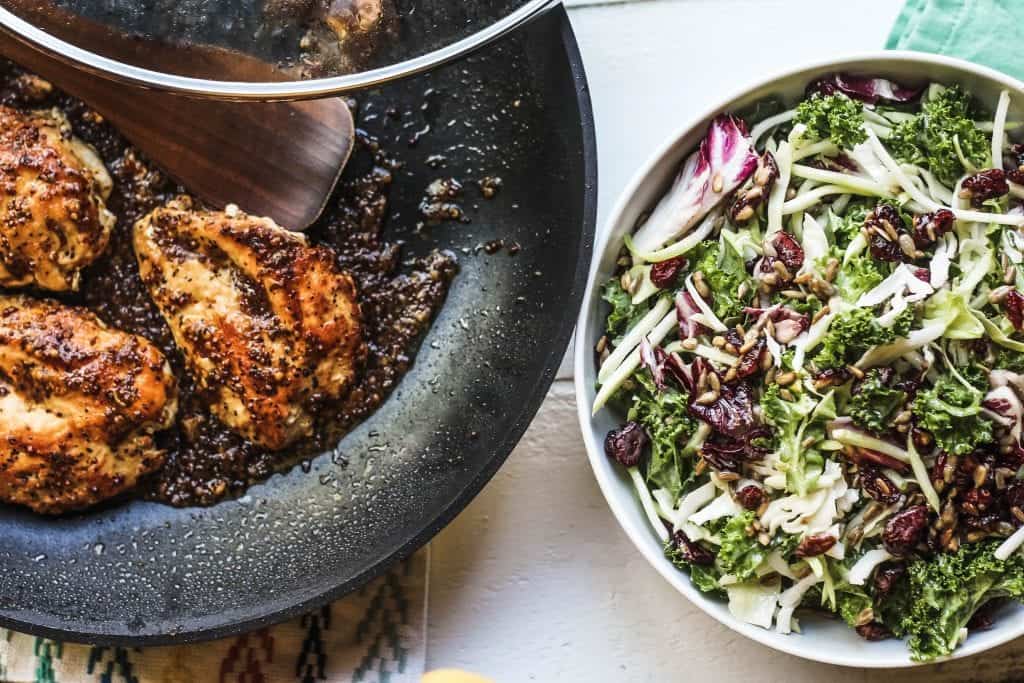 I am a HUGE fan of both bagged salads and pre-cut veggies, you know the kind you steam in the bag? Yeah, I like those. Because when I have these in the fridge, I KNOW they will get used. If I buy fresh green beans that need to be washed and snapped, they might go unused. I really shouldn't admit this! It's just the truth. That's why I love (LOVE) Eat Smart Gourmet Vegetable Salad Kits. They are healthy and the flavors are high end. I top them with grilled protein and use them as side dishes. Everyone in my family LOVES them!


This chicken pairs perfectly with their Sunflower Kale Vegetable Salad, which is packed with superfoods and comes with a slightly sweet Honey Dijon dressing! You can find these salad kits here.
Yield: 3
Easy Skillet Maple Dijon Chicken
Ingredients
2 tsp vegetable or olive oil
3 chicken breasts, fresh or dethawed
3 tbsp maple syrup
3 tbsp dijon mustard*
pinch of cayenne pepper (optional)
salt and pepper
Instructions
Add oil to large, non-stick skillet and heat on medium-high heat.
Pat chicken breasts dry with paper towel and lightly season with salt and pepper. Add to pan, allow to sear for 10 minutes. Do not move the chicken breasts while they are searing.
Flip them over and then cover with a lid. Allow to sear/steam for another 10 minutes.
Meanwhile, mix together the maple syrup, dijon mustard and cayenne pepper in a small bowl.
Using a brush, brush the maple dijon glaze onto the chicken breasts, flip, and do the same on the other side. Allow to cook for another 1-2 minutes. Serve.
Notes
*I usually use the whole grain/stone ground mustard, like Grey Poupon. Use what you have on hand!
Eat Smart is hosting a giveaway! Like their Facebook page and sign up for their monthly e-newsletter to enter to win American Express gift cards and salad kits!
Prize: Ten (10) AMEX Gift Cards at $50 each and samples of all five Eat Smart Gourmet Vegetable Salad Kits (for a total of five salads)
Dates: 9/16/16 – 10/07/16
I-C will randomly select winners from all program entries and will facilitate fulfillment of the winning prizes (10)
Eat Smart Gourmet Vegetable Salad Kit Giveaway
This post was sponsored by Eat Smart as part of an Influencer Activation for Influence Central and all opinions expressed in my post are my own. I received product samples to facilitate my review.