Your family will love these Easy Spinach Turkey Meatballs! Serve this healthy meatball recipe with marinara over rice, pasta or zucchini noodles for an easy weeknight dinner.
New year, new you! Every year, the top resolution people make is to lose weight. I started 2016 twenty pounds heavier than I am now. I lost my unwanted pounds through intense daily sessions at the gym and an iron will to not give up! But, I found that as I built muscle and my workouts got more intense, my body CRAVED protein in a way it never has!
I began to introduce more protein into my diet like ground turkey and turkey breast. Making healthy dinners is a challenge sometimes, because I feed some hungry individuals who need full bellies. That's why I love recipes like these Easy Turkey Spinach Meatballs. These healthy meatballs are quick and easy for me, and filling for my boys!
I used Honeysuckle White Lean Ground Turkey and Italian Turkey Sausage for these healthy turkey meatballs. I feel comfortable recommending these products because of my experiences with the company.
This past fall, I was lucky enough to visit one of Honeysuckle White's turkey farms in Virginia, Riverhill Farms. During this visit, I toured inside the turkey barns where they raise their birds. I was also provided a few hours to ask questions of Glenn and Sheri, the family farmers who own the operation.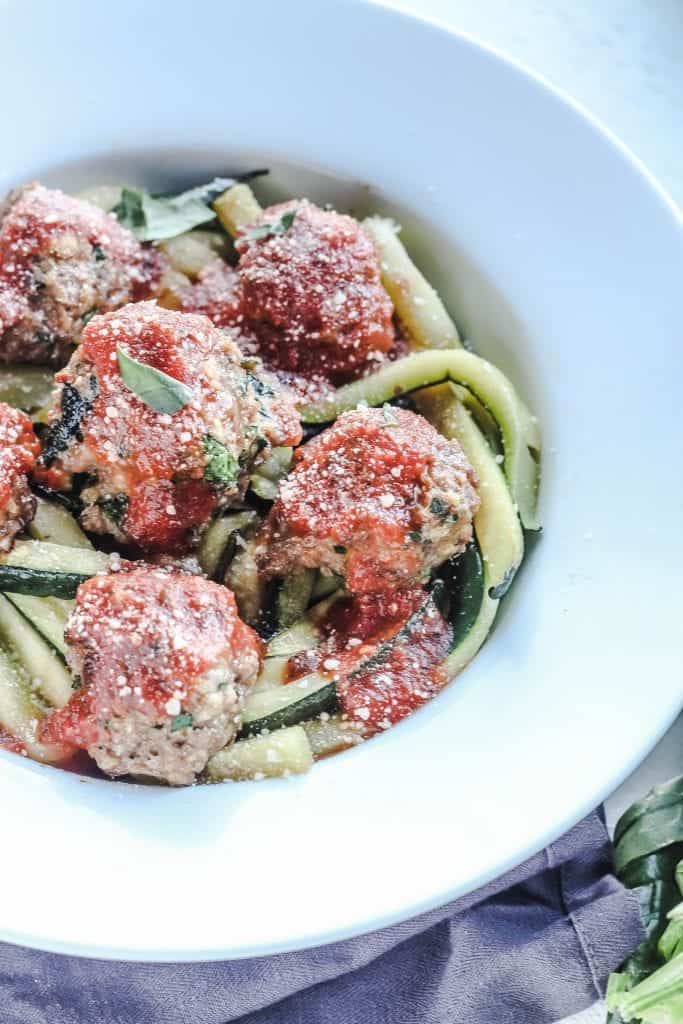 The barns were clean and climate controlled, and situated on a sprawling piece of land which now supports seven families. In our conversation, I learned Honeysuckle White has chosen not to use growth-promoting antibiotics. I asked why they would do something that slows down the growth process for them if it wasn't illegal.
The response was that it was something that they felt was the right thing to do for us, the consumers. Overall, the experience was wonderful and I left much more comfortable about where my turkey comes from. Glenn, the owner, was so appreciative for the opportunity to grow turkeys for our family's dinner tables.
I hope that your family enjoys these Easy Turkey Spinach Meatballs! The recipe is below, but before you leave, check out this video tour of Glenn and Sheri's turkey farm.
Spinach Turkey Meatballs
Ingredients
2 tablespoon olive oil
8 ounces Honeysuckle White Mild Italian Turkey Sausage
8 ounces Honeysuckle Ground Turkey (93% lean)
1 egg, beaten
⅓ cup italian panko bread crumbs (or plain bread crumbs, add italian seasoning)
½ cup fresh spinach, finely chopped
Instructions
Place olive oil on baking sheet and place in oven to preheat at 350 degrees.
Combine all ingredients in a large mixing bowl. Knead with hands until well combined.
Using an ice cream scooper, scoop the mixture up and gently form with hands. Carefully place on preheated pan and return pan to oven.
Bake for 15 minutes, then flip meatballs and bake for another 5 minutes.
Serve with marinara sauce and over rice, pasta or zucchini noodles.
Notes
Per 5-6 meatballs on 21 day fix (1 serving)
1 red container
⅓ yellow
1 tsp
Nutrition Information
Yield

4
Serving Size

4
Amount Per Serving
Calories

352
If you love these healthy turkey meatballs, I think you'll also enjoy:
I'm proud to share this recipe in partnership Honeysuckle White Turkey (or Shady Brook Farms if you're on the East Cost), who have sponsored this post today. HoneySuckle White's turkey are raised on family farms without any growth promoting antibiotics. Thank you for supporting the brands I love that make this blog possible! You can visit them on Facebook, Instagram, and Pinterest. Stay tuned for several more delicious turkey recipes this spring!