Cranberry is a perfect addition to the traditional Moscow Mule. You'll want to serve these easy Cranberry Moscow Mules at every party this fall and winter!
Before I get to the Cranberry Moscow Mule recipe, a little bit of a life update. Sometimes, I write about my job. And it bums me out that most of the time when I write about it, I'm griping!
"This is super delicious and easy. It's a big hit at parties!" - Vera, Pinterest User, Cranberry Moscow Mule recipe review
Because my job truly rocks, I just occasionally get bummed out by the behaviors of others. The industry I'm in is old school, no doubt. It's a boy's club. I've fared reasonably well, probably because I'm not easily offended. But sometimes, a few perfectly timed comments by another can really get me down.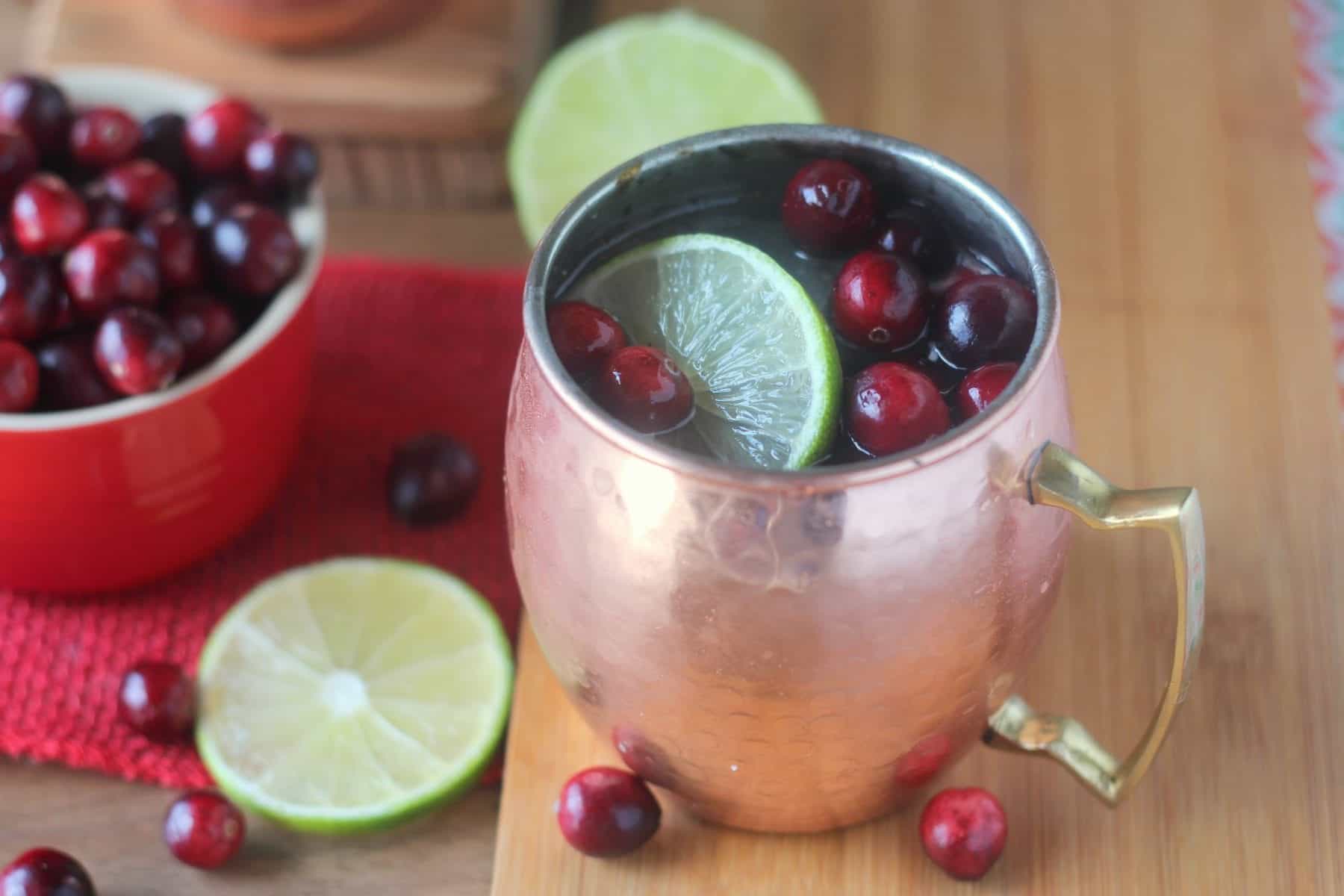 It seems like every time I'm already a bit burnt out, I encounter "noisy guy" in my work. You know, that guy who meets you and within a minute has you totally figured out. The guy that makes you doubt yourself with just a few sentences (for the record, noisy guys are both male and female, this particular one just happened to be male).
"This is super delicious and easy. It's a big hit at parties!" - Vera, Pinterest User, Cranberry Moscow Mule recipe review
This week's "noisy guy" proudly boasted that he had only changed two diapers in the raising of his three children, and wondered out loud how my husband tolerated me being gone overnight for work. And that he would have left his wife if she "tried that on him." And, more things that are better left out. He said these things in front of a large group of my peers, who, to their credit, were all pretty unhappy with him. There's so much to say in response to him, but I think you all can read between the lines here.
"Thanksgiving was so great thanks to these!" - Asia, Pinterest User, Cranberry Moscow Mule review
I don't want to rant, but I've committed to be honest on this blog and share what's happening in my life, even when it's not Pinterest pretty. Being a young female in the trash industry, this happens quite a bit. People can be a bit trashy themselves, if you will (SORRY HAD TO!)
Occasionally, I state facts such as "I love my job," "I really like to work," or "my family needs my income," but those statements never really feel good enough. I generally take the high road and get away from them quickly. But, noisy guy usually gets in my head for a few days, and does some damage.
When I am frustrated like I was earlier this week, I make some of my best food. My mind almost retreats into itself, and I just cook. I usually don't search for recipes, I just do it. I look in the fridge, and the freezer, and get to work.
"Made these for Christmas Day. Big hit and looked so pretty." -Erica, Pinterest User, Cranberry Moscow Mule recipe review
Cooking is total therapy for me! This particular bout of frustration resulted in a few recipes that I'm very proud of, but this was the first that I made that day. A little liquid therapy always helps too, ya know? This is where the Cranberry Moscow Mules come in.
I've experimented with Moscow Mules on the blog here before, with this awesome Cherry Limeade Moscow Mule recipe earlier this year. But, it's fall, and the holidays feel very near, so I wanted to update my beloved Mule for the season.
The cranberry flavors pair perfectly with the traditional ginger beer and lime components of this drink, and would make an EXCELLENT addition to your Thanksgiving menu.
Let me know if you plan to make this Cranberry Moscow Mule cocktail for your friends and family this Thanksgiving! Y
ou might also like my Cranberry Mimosa, or this awesome Raspberry Moscow Mule! And if you have any tips (other than cooking and drinking) to cope with the "noisy guys" in your life, I'd love to hear that, too.
Yield: 1
Cranberry Moscow Mules
This super easy cranberry moscow mule is the perfect fall drink. Lime, ginger beer, cranberry juice and festive garnish
Ingredients
8 ounces ginger beer
juice of 1 lime
vodka, 1 shot/jigger
1 tbsp cranberry juice cocktail (the sweet stuff)
raw cranberries and lime slices for garnish, optional
Instructions
Combine all ingredients, and stir. Pour over ice, and serve, preferably in a copper mug.
Garnish with raw cranberries and lime slices.
If you love this cocktail, you'd also love these cocktail recipes!