Air Fryer Sweet Potatoes with Parmesan and Rosemary
These crispy air fryer sweet potatoes are a great side dish for weeknight dinners! It's one of the easiest ways to cook sweet potatoes.
For someone who eats a LOT of sweet potatoes, I don't have very many sweet potato recipes on my site other than these Air Fryer Sweet Potato Fries and this Sweet Potato Casserole!
So, this Air Fryer Sweet Potato cubes recipe is the first of many I'll be sharing over the coming months. Just in time for autumn!
"A good recipe, we cut back on the rosemary, as the grandkids not used to rosemary yet, but they ate every bite of these yummy sweet potatoes. This recipe is easy enough for kids to make it themselves with some minor overseeing by the adult."

Marilyn
This sweet potato recipe is the perfect side dish for weeknight meals, and as an added bonus, it's healthy!
Air frying is one of the best ways to get a crispy exterior on your food without using a lot of oil. The hot air circulates around, crisping up your food.
This easy side dish recipe combines the natural sweetness of the sweet potatoes with savory spices and rosemary, once of my favorite herbs!
If you aren't a rosemary fan, you can substitute thyme or sage. It will still be delicious.
Check out the other air fryer recipes on my site!
Frequently Asked Questions
Are sweet potatoes good for you?
Yes, in addition to being delicious, sweet potatoes are packed with Vitamin b6, Vitamin c, and Vitamin a!
Can I use regular potatoes?
Yes! Use white potatoes or new potatoes and you can leave the skin on if you like! The savory spices and herbs are the perfect match for most varieties of potatoes. Feel free to also use different varieties of sweet potatoes.
Can I bake this sweet potato recipe in the oven instead?
Yes, of course! Toss the items on a baking sheet and roast in a single layer for 12-14 minutes at 400 degrees Fahrenheit.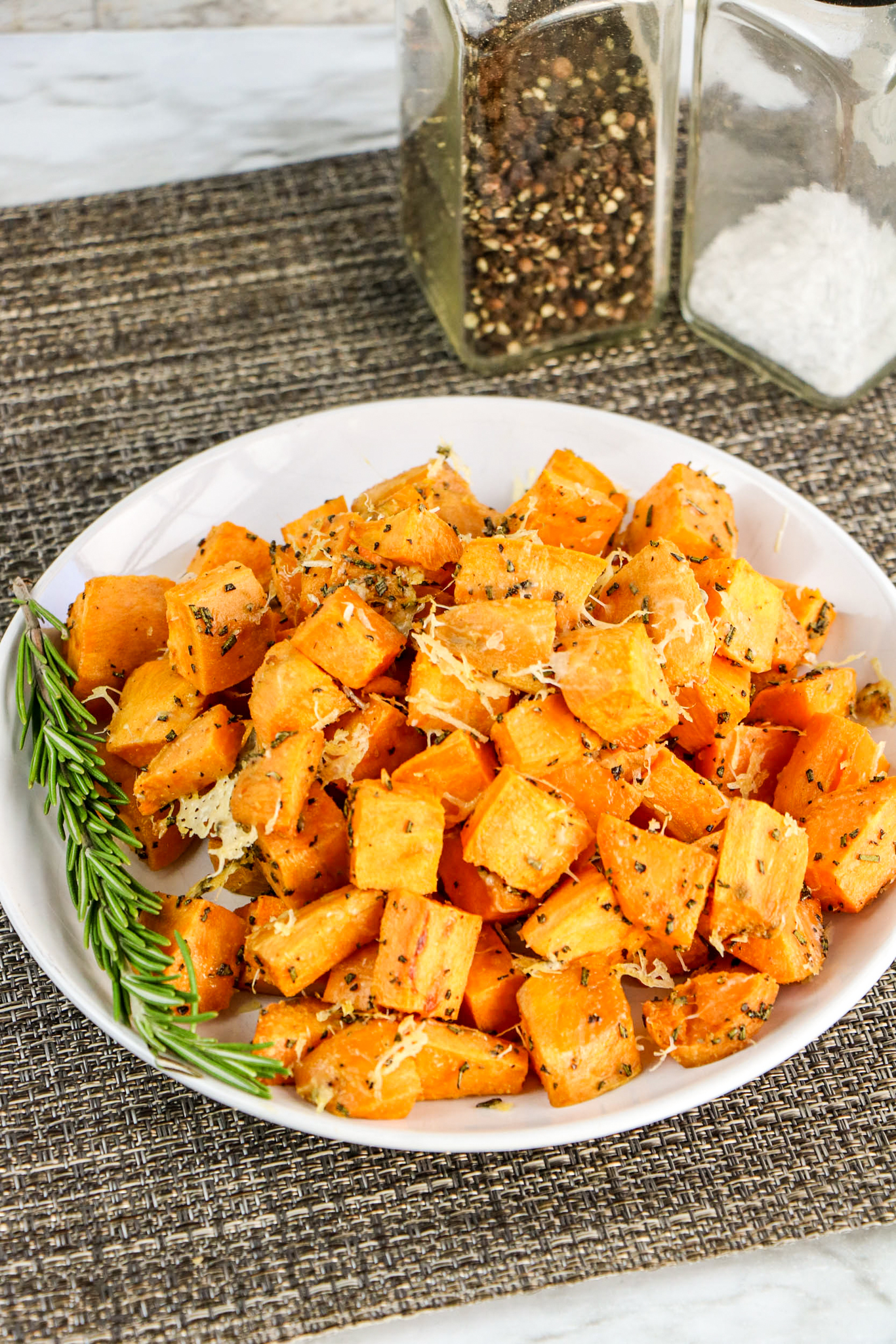 What should I serve with these crispy sweet potato cubes?
I think there are many dishes that would pair well with this delicious side dish. Here are a few suggestions:
Storage and Reheating
Store leftovers in an airtight container. Reheat in the air fryer at 320 degrees Fahrenheit for about 5 minutes.
Air Fryer Sweet Potatoes with Parmesan and Rosemary
Yield: Serves 4-5
Prep Time: 15 minutes
Cook Time: 15 minutes
Total Time: 30 minutes
These crispy air fryer sweet potatoes are a great side dish for weeknight dinners! It's one of the easiest ways to enjoy cubed sweet potatoes.
Ingredients
2 pounds of sweet potatoes, peeled and cubed (less than 1 inch on all sides)
1 tablespoon avocado oil
1 tablespoon minced fresh rosemary
¾ teaspoon garlic powder
¼ cup freshly grated Parmesan cheese
½ teaspoon salt
¼ teaspoon black pepper
Instructions
Preheat your air fryer to 390 degrees Fahrenheit.
Prepare the air fryer basket by spraying it with cooking spray.
In a large mixing bowl, add sweet potato chunks, avocado oil, fresh rosemary, garlic powder, Parmesan cheese and salt and pepper. Toss to coat the sweet potatoes.
Add sweet potato cubes to the air fryer basket. Air fry for 12-15 minutes, shaking the basket every 5 minutes.
Once the sweet potato cubes are golden brown and easily pierced with a fork, they're done. Remove from the air fryer and serve warm.
Notes
Crispiness: You can spray the sweet potato cubes with extra oil in the last 5 minutes if they aren't crisping up.
As much as I love air fryers, the cook time can really vary from model to model! For this reason, I recommend checking your food every few minutes. When the sweet potatoes start to turn golden brown, they're close to being done.
Common modifications:
Spicy: To add a little heat, add ⅛ tsp or chili powder or cayenne pepper to the oil and spice mixture.
Sweet: To make a sweet version of this recipe, add 1 tablespoon or brown sugar or maple syrup to the oil and spice mixture.
Nutrition Information
Yield 4
Serving Size 1
Amount Per Serving
Calories 264
Total Fat 6g
Saturated Fat 1g
Trans Fat 0g
Unsaturated Fat 4g
Cholesterol 5mg
Sodium 459mg
Carbohydrates 48g
Fiber 8g
Sugar 15g
Protein 6g
The nutrition for this recipe is calculated by an app and may be incorrect.