This Creamy Yellow Squash Soup is a delicious, savory way to use up yellow squash and zucchini! Even squash haters will love the creamy, herb flavor of this soup!
I originally wanted to title this soup recipe "Herby Creamy Yellow Squash Soup." But, I think you all might start thinking that I've gone nuts! Herby is technically a word, but it just doesn't sound right. It sounds like something you make up when you're at a loss for words. So I kept it simple, and I'm happy to share this very reasonably named Yellow Squash Soup with you today!
This soup was an accident! I planned on making Butternut Squash Soup, but my store was totally out of Butternut Squash. What? I know it's getting popular, but I feel like it should be in stock at all times during the fall to keep our fall palates happy.
The problem was, I had already shopped for the REST of the ingredients and I wasn't about to put them back on the shelves. I already had some yellow squash and zucchini at home and literally thought "what the heck?" Let's try out some Yellow Squash Soup.
Spoiler alert: This soup is delicious. It's mild flavored and you'd be hard pressed to find ANYBODY that doesn't like it if they try. Even my first grader, who typically turns his nose up at "fancy soups" gave it two enthusiastic thumbs up!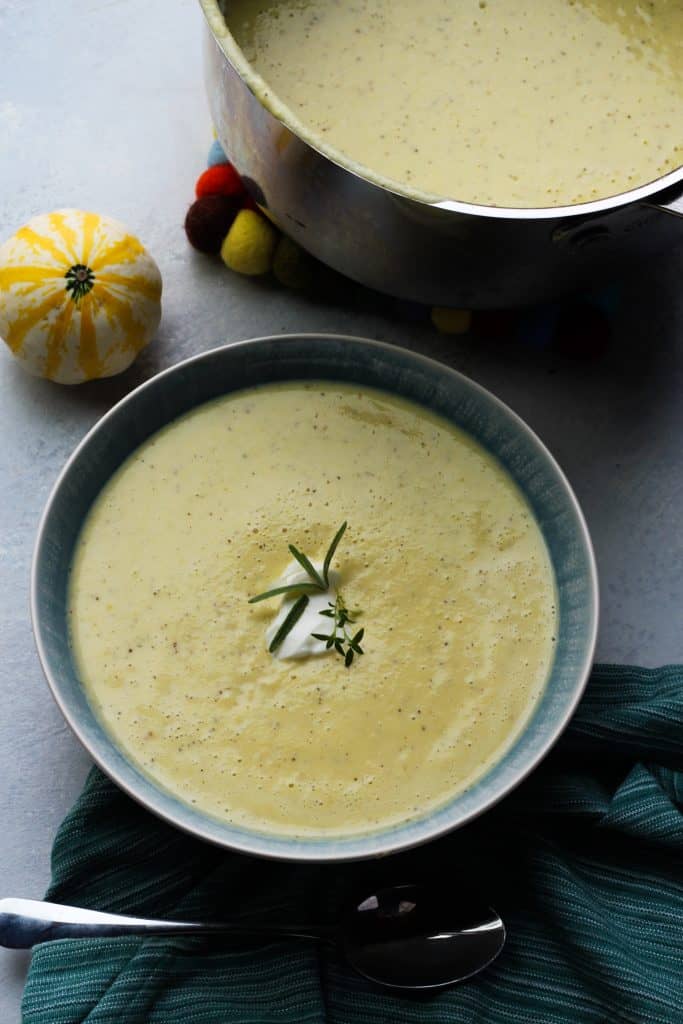 Other than the flavor, the thing I like best about this soup is the COLOR! It isn't often that you have a prepared food that's pale yellow. It'd be absolutely beautiful served at a baby shower, with a dollop of sour cream and some fresh green herbs on top!
Yield: 5
Creamy Yellow Squash Soup
Ingredients
3 pounds yellow squash (or zucchini, or a mix of the two), cubed
4 cups chicken broth
4 ounces cream cheese
4 ounces Boursin herb cheese
1 tsp yellow curry powder*
¼ tsp garlic powder
¼ tsp salt
⅛ tsp black pepper
Instructions
Add chicken broth and cubed squash to large sauce pan.
Simmer on low-medium heat for about 25 minutes, or until the squash is soft.
Add broth and squash to blender along with cream cheese, Boursin cheese and spices.
Puree in blender until completely smooth.
Serve hot in the winter, or cold in the summer.
Garnish with sour cream, fresh herbs or heavy cream, optional.
If you love this Creamy Yellow Squash Soup, I think you'll also enjoy: