Last Updated on
This post was sponsored by Sargento Foods as part of an Ambassador Program for Influence Central and all opinions expressed in my post are my own.
Your family will love this hearty Cheesy Sausage Hash Brown Breakfast Casserole, perfect for weekend brunch.
We've been SO busy lately. I was promoted at the day job, and we've had guests staying with us almost every weekend! There's a lot that comes with having guests, making sure the house is clean is of course one of these things. The other thing is having enough food in the house! Getting breakfast with a group around our house is tough; there are only a few breakfast spots and on the weekend, the wait times will be an hour or more!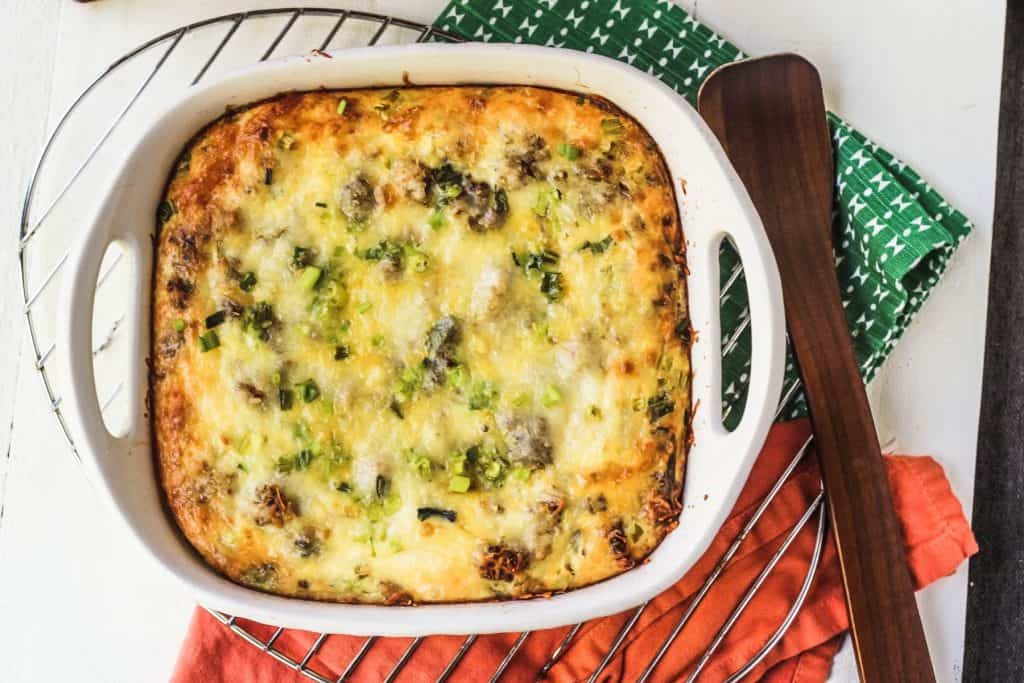 So, we always cook breakfast for our guests at home. I've learned that if I can put together a breakfast casserole, the cooking process is so much less stressful! I spent about 10 minutes getting the casserole prepped, and then it's thrown in the oven. I can then make something to accompany it, or spend time chatting. My favorite breakfast casserole to serve when we have guests is this Cheesy Sausage Hash Brown Breakfast Casserole!
This is a hearty breakfast casserole, packed with hash browns, sausage, eggs, fresh Sargento® Shredded Cheese and simple seasonings. Great tasting meals start with cheese shredded fresh off the block, which is why I use Sargento® Cheese.
For this recipe, I chose Sargento® Shredded 6 Cheese Italian, which is always shredded from blocks of real, natural cheese. I think that you could also use Sargento® Shredded 4 State Cheddar Cheese or Sargento® Shredded Monterey Jack Cheese to switch up the flavor of this hash brown breakfast casserole! Make sure to purchase 2 bags of Sargento® Cheese to make these recipes!
A little step by step action for you! There's nothing better than the crunch of the hash brown potatoes in the bottom of this cheesy sausage breakfast casserole, I promise!
Cheesy Sausage Hash Brown Breakfast Casserole
This easy breakfast casserole layers tator tots, sausage crumbles, eggs and cheese! It's so good!
Ingredients
About 40-50 hash brown rounds, frozen
1 lb breakfast sausage (hot or mild)
12 eggs
1/4 cup milk
pinch of salt, pepper and garlic powder
1 cup Sargento® Shredded 6 Cheese Italian
3 green onions, finely minced, roots and white pieces discarded
Instructions
Preheat oven to 350 degrees F.
Grease a 9x9 casserole dish.
Add hash brown rounds to bottom of dish, arranging into a single layer.
In a skillet, cook the breakfast sausage, breaking into crumbles, about 5 minutes. When finished, add the cooked sausage crumbles to the casserole dish.
In a medium mixing bowl, add the eggs, milk, spices, and cheese. Mix well with a whisk until well combined.
Pour egg mixture over the tator tots and sausage.
Sprinkle green onion over the top.
Bake in oven for about 30 minutes, or until the egg mixture is completely cooked through in the center. Allow to cool for 5-10 minutes before slicing.

Using these cheese varieties is a sure way to get a cheesy taste in this breakfast casserole. Here's five other ways that I incorporate my favorite cheeses into recipes!
This Easy Bratwurst Pasta is the perfect way to use up leftover brats! Add a few generous handfuls of Sargento ® Shredded 6 Cheese Italian to make the dish extra creamy.
This Easy Slow Cooker Pulled Pork is so versatile. Use it in a burrito with Sargento® Shredded Monterey Jack for an easy lunch!
These Mini Bacon and Cheese Egg Muffins are perfect for breakfast on the go and freezer friendly! Use Sargento® Shredded Monterey Jack Cheese in your next batch!
This Bell Pepper Quinoa Salad is a great addition to your next cookout! Add Sargento® Shredded 6 Cheese Italian to this cold salad to add a little more protein and flavor.
I love to bring this Greek Pasta Salad to barbecues! Add Sargento® Shredded 6 Cheese Italian to this cold salad to make it extra yummy for your next barbecue.