Cinnamon Roll Casserole (Easy Breakfast Bake Recipe)
This easy breakfast casserole is made with store-bought cinnamon rolls! It's perfect for Sunday morning breakfast during the holiday season.
Imagine waking up as a child on Christmas morning to the smell of cinnamon rolls baking. Cinnamon and nutmeg wafting through the air, and the anticipation of gifts under the tree! Perfect, right? This simple recipe takes an everyday thing (canned cinnamon rolls), and turns them into something fit for special occasions.
"Thank you for the recipe!!! It was soooo good and really easy to make!"

– Renee
I like to serve this Easy Cinnamon Roll breakfast casserole for special days, like Christmas! There's nothing wrong with traditional cinnamon rolls, but this recipe takes it up a notch. It's a great recipe that I am always proud to serve for guests. It gets rave reviews!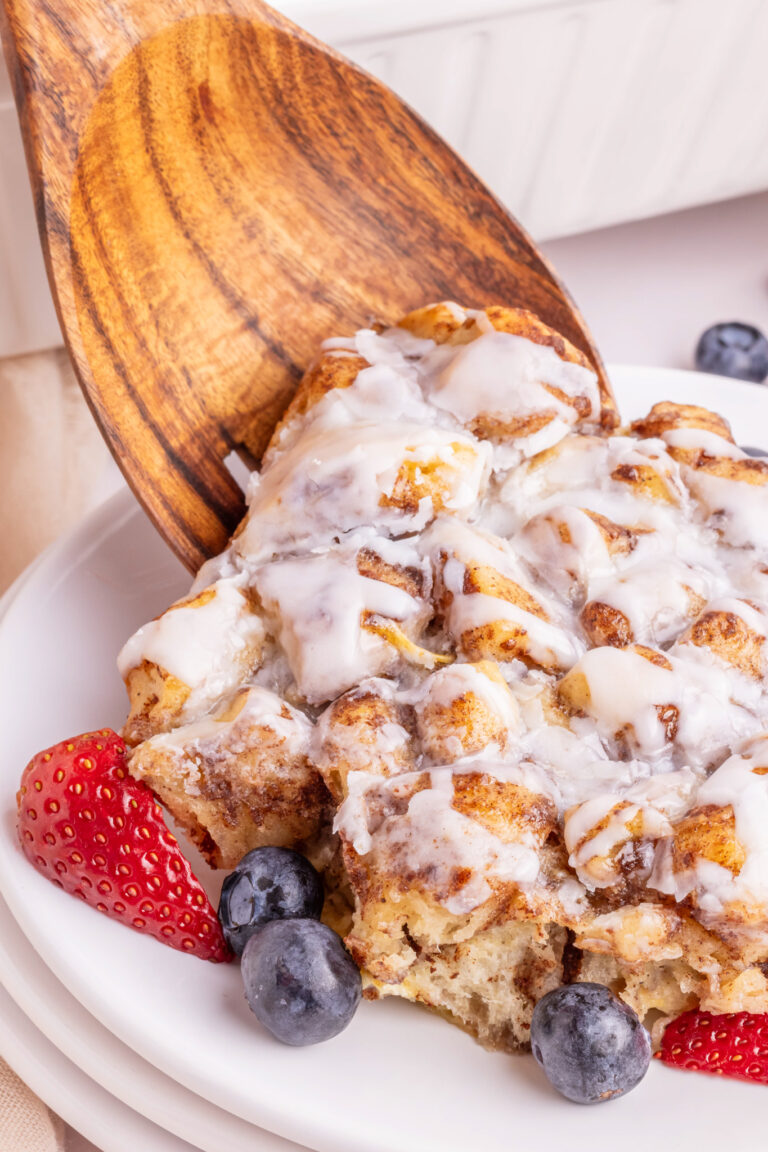 I came up with this easy cinnamon roll casserole recipe as a play on a French toast bake, a recipe I love to make for a sweet breakfast treat. The main difference between this and a French toast casserole recipe is that we use cinnamon roll pieces instead of torn bread. It's sweet, gooey perfection!
Maple syrup is in the mix for a hint of extra sweetness, and we add even more cinnamon and nutmeg to the mix for extra flavor. And, since each can of cinnamon rolls comes with cinnamon roll icing, we use that icing, too! It doesn't matter if the included icing is cream cheese icing, that will work too.
Want another sweet breakfast casserole recipe? Try my Apple Brioche French Toast Casserole.
This is an easy recipe, but you will need to cut the cinnamon roll dough. To do this, I like to use my kitchen shears. You could also use a sharp knife, or a pizza cutter!
Recipe Substitutions for this Homemade Cinnamon Roll Casserole:
If you're new here, I want to let you know that you can always expect me to give recipe substitution suggestions! I think the best recipe is one that uses what you have on hand. Here are a few for this recipe:
I used two 8-count cans of Pillsbury cinnamon rolls for this recipe. You can absolutely use your store brand to save a bit of money!
Yes, you can use leftover, baked cinnamon rolls for this dish! I would reduce the bake time down to 20-25 minutes if so.
You can absolutely make your own cinnamon roll dough and use homemade cinnamon rolls for this casserole.
Instead of the half and half, use heavy whipping cream or whole milk.
Instead of the maple syrup, use brown sugar (mix into egg mixture).
Instead of cooking spray, you can brush the inside of your casserole pan with melted butter or a neutral-tasting cooking oil.
Check out all of the easy breakfast recipes on Blackberry Babe. I have so many breakfast ideas for you!
Recipe Adaptations:
Crock Pot Cinnamon Rolls Casserole: You can bake this recipe in the slow cooker! Try it on high for 2-3 hours.
With Fruit: The next time I make this recipe, I am going to add some fresh, diced apples with the cinnamon roll pieces.
Cast Iron: For extra presentation points, use a large skillet made of cast iron to bake your casserole.
Storing Leftovers:
Cover the baking dish with plastic wrap or aluminum foil or store in an airtight container. Keep at room temperature for up to 2 days. It will still be good to eat for a few more days, but may go a bit stale!
I like to reheat this sweet casserole for about 15-20 seconds in the microwave.
Serving Suggestions:
I think this easy Cinnamon Roll Bake is just perfect for Christmas morning breakfast, Easter brunch or Mother's Day! It feels special, but it isn't too hard to make. I know your whole family will enjoy it!
You can serve this delicious breakfast casserole for special breakfasts or brunches alongside a fresh fruit board, Million Dollar Bacon, and a delicious egg casserole or a pan of fluffy scrambled eggs.
For serving, this dish is best when it's warm (not hot) with extra maple syrup for drizzling! Or, you can top each slice of casserole with sliced fruit or berries.
I know this recipe will become a family favorite! If you make it, leave me a comment let me know how it went for you, below!
Cinnamon Roll Casserole
Yield: Serves 9-10
Prep Time: 10 minutes
Cook Time: 35 minutes
Additional Time: 10 minutes
Total Time: 55 minutes
This easy breakfast casserole is made with store-bought cinnamon rolls! It's perfect for Sunday morning breakfast during the holiday season. 
Ingredients
4 eggs
½ cup half and half or heavy cream
2 teaspoons vanilla extract
¼ teaspoon cinnamon
¼ teaspoon nutmeg
2 tubes refrigerated cinnamon rolls, 16 rolls total
For topping:
¼ cup maple syrup
2 cinnamon roll icing packets
Instructions
Preheat oven to 350° Fahrenheit.
Prepare your 9x13'' casserole dish with cooking spray.
In a medium bowl add the eggs, half and half (or heavy cream), vanilla extract, cinnamon, and nutmeg. Whisk vigorously until fully combined. Set aside.
Cut cinnamon roll dough into 1-inch pieces with scissors and place them into the baking dish.
Pour the egg mixture over the top of the cinnamon roll pieces.
Place casserole dish into a preheated oven. Bake for 30-35 minutes until the top is golden brown and slightly crunchy.
Remove from the oven.
Drizzle the maple syrup and included icing packets on top of the warm cinnamon rolls casserole. Then, allow to rest for 5-10 minutes before slicing.
Serve warm.
Nutrition Information
Yield 10
Serving Size 1
Amount Per Serving
Calories 332
Total Fat 12g
Saturated Fat 4g
Trans Fat 2g
Unsaturated Fat 4g
Cholesterol 82mg
Sodium 554mg
Carbohydrates 48g
Fiber 2g
Sugar 16g
Protein 8g
The nutrition for this recipe is calculated by an app and may be incorrect.