You will love each and every one of these easy and fresh fruit salsa recipes!
Summer is coming, folks. And I could NOT be more excited! I love the comfort food of winter, but get me in a farmer's market with fresh peaches, blackberries and tomatoes and I am in HEAVEN! I've always used fruit salsas as toppers for my protein, like in this super easy Sriracha Chicken with Mango Salsa recipe. Anything topped with fruit salsa is a WIN for me!
The fruit salsa recipes you'll see below have a way to add almost ANY produce, from pineapple, to jicama, to watermelon! There's even a grape salsa recipe included! My personal favorite is ANYTHING that includes blueberries and/or corn. YUM! That just tastes like summer to me.
I hope that you enjoy my list of favorite fruit salsa recipes from my fellow foodie friends! Let's start counting down to summer, together!
The Kitchen is My Playground - Grape Salsa
Cookie and Kate - Strawberry Salsa

Our Best Bites - Cucumber Melon Salsa
A Farm Girl Dabbles - Watermelon Jicama Salsa
Homecooking Memories - Pineapple Mango Salsa
How Sweet Eats - Grilled Corn, Peach, and Basil Salsa

Destination Delish - Pineapple Cucumber Salsa
Camille Styles - Cucumber Clementine Salsa
How Sweet Eats - Pineapple Kiwi Salsa
Refreesh Restyle - Strawberry Blueberry Salsa
Carlsbad Cravings - Grilled Pineapple Pear Salsa
The Gunny Sack - Apple Mango Salsa
Gimme Some Oven - 5-Ingredient Pear and Pomegranate Salsa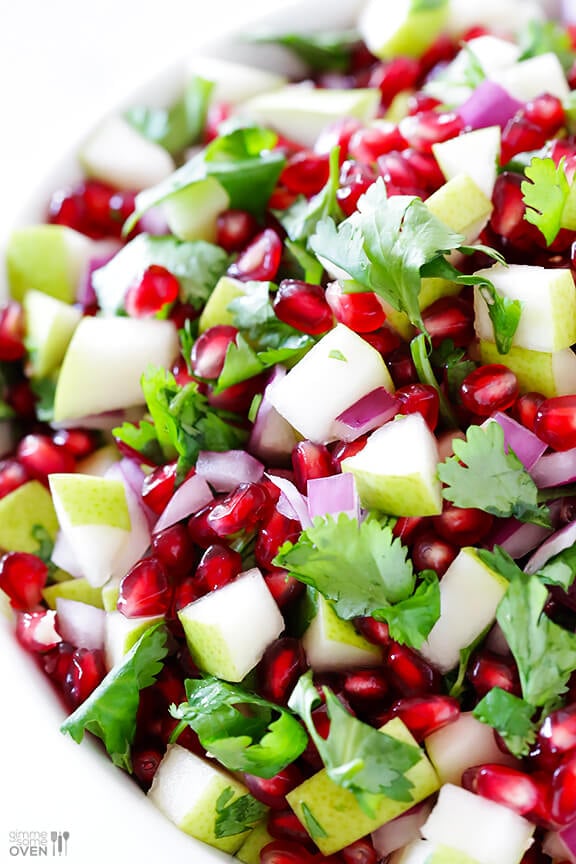 The Real Foo Dietitians - Grapefruit Avocado Salsa
Savory Nothings - Avocado, Mango, and Black Bean Salsa
Through the Looking Glass - Watermelon, Honey Dew, Jalapeno, Cilantro, Mint Salsa
Eazy Peazy Mealz - Blueberry Pineapple Salsa
That's it, folks! All of my favorite fruit salsa recipes in one place! Let me know if you try any of them out, and I'll see you next week!