These shrimp and avocado ceviche cups are surprisingly easy, and very healthy. Shrimp and chopped vegetables are "cooked" in lime juice, then served in homemade tortilla cups. Packed with flavor and very healthy. Dairy and gluten free options.
And, I've joined with a few other bloggers to give away a $599 Breville Juicer! Keep scrolling to enter!
It's been six months since I've been in Mexico. I know, boo hoo! But there's a special place there where I truly feel home, and the longer I've been away, the more I ache to return. Craig and I try to go once a year to Isla Mujeres, a very small island off Cancun.
Most people that I tell this to say one of two things. "Where?" or "People actually live there?" You see, Isla Mujeres is tiny. There are very few amenities that people look for on vacation, like golf courses, shopping, and all-inclusive resorts (well, there are a few, but they're small). Isla is a sleepy little island, and is most famous for being the destination of catamaran trips from Cancun. It's only 4 miles long, and less than a mile wide.
So, why do we go? I could gush about it for days. I won't. I'll keep it simple. It's stunningly beautiful. Devastatingly so, at times. It's home to one of the most beautiful, calm beaches in the world in the bay between Isla and Cancun. But, on the other side of the island, the sea rages. It's violent and the wind whips from the Carribbean. It's still beautiful, but not swimming friendly. I've done it, saw a sea ray (which was super cool!), and still wouldn't do it again. Other than the beautiful views, the food is incredible and so fresh. It's expensive to ship food from Cancun to Isla by ferry, so you really get what's fresh, cheap and plentiful, mostly seafood. Not complaining. The residents (both locals and tons of expats) are super friendly and chatty, and the pace there is so slow and leisurely. It's truly my idea of heaven.


These shrimp and avocado ceviche cups are inspired by the food we eat in Isla. We live on ceviche of all kinds, grouper, fish and shrimp tacos, and guacamole. We literally eat nothing else while we're there. Maybe some huevos rancheros and fresh fruit for breakfast, but most days, we're perfectly content munching on ceviche and drinking some cervezas!
This ceviche is surprisingly easy to pull together. The lime juice actually cooks the shrimp, which takes about 15 minutes. While it's cooking, you can bake the tortilla cups in the oven, ad chop up the avocado, cilantro, onion, and tomato. It's pretty simple, and perfect for a hot summer day!



Recipe
Shrimp and Avocado Ceviche Cups
Ingredients
1 pound medium raw shrimp, peeled, deveined, tail removed
1;25 cup freshly squeezed lime juice
1 cup seeded and finely chopped tomato (about 1 large roma tomato)
1 cup diced avocado
½ cup chopped fresh cilantro (about two handfuls)
½ cup finely chopped red onion (about half of a medium sized onion)
1 jalapeno pepper, deveined, seeded and minced
salt and pepper, for seasoning to taste
3 burrito sized tortillas (I like flour, but corn would work too)
Instructions
Preheat oven to 350 degrees.
Place ¾ cup of the lime juice and raw shrimp in a medium sized bowl. Stir, and let sit for exactly 15 minutes, no more, no less. The lime juice will cook the shrimp. If the shrimp is not completely covered, add a bit more lime juice.
While the shrimp is cooking, combine the tomato, avocado, cilantro, red onion, jalapeno pepper and the remainder of the lime juice in a separate bowl. Toss to combine with the shrimp, and serve
For the cups
Divide the tortillas in fourths. Place in ungreased muffin tins. Bake at 350 degrees for 15 minutes, until tortillas are crispy and retain their curved shape.
Serve
Notes
*Use gluten free corn tortillas to make this dish gluten free! You may prefer corn tortillas, although I think flour tortillas perform better in the oven.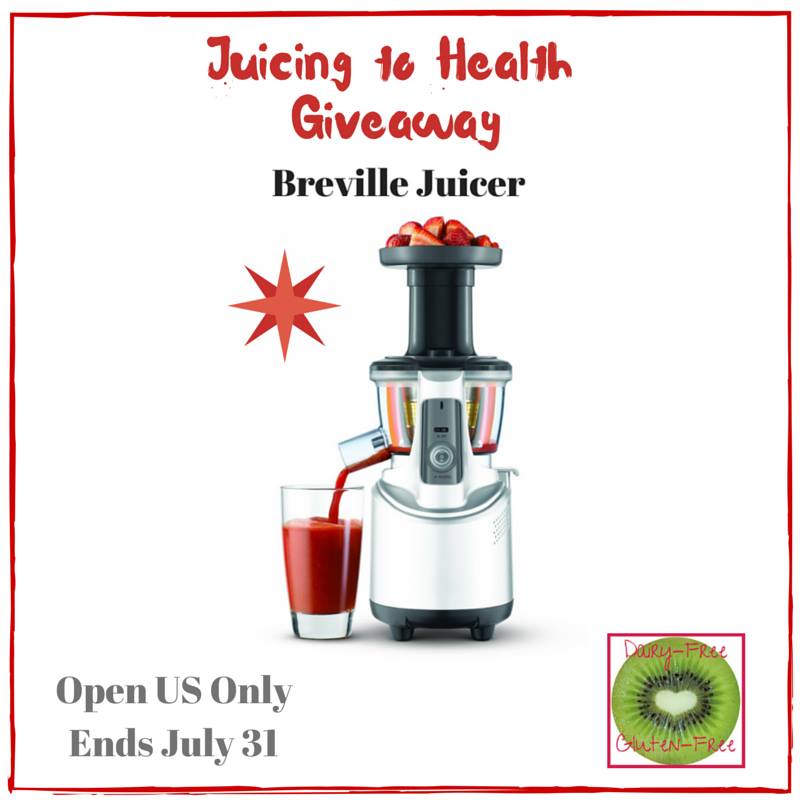 As some of you know, there are several very important people in my life who have dietary restrictions (primarily gluten and dairy), and juicing helps them stay satiated. I'm trying to incorporate more gluten and dairy free options into my recipes going forward, and I'm joining with My Dairy-Free Gluten-Free Life and some blogger friends to bring you this Juicing to Health Giveaway with a Masticating Breville Juicer (rv $599)! To me, juicing is fun and delicious, and a great way to sneak more greens into your life. This slow juicer works better on greens.
About the Breville Juicer
There are two main types of juicers, centrifugal juicers and slow (or masticating) juicers. This Breville is a Masticating Juicer. Centrifugal juicers work by shredding the fruits and vegetables and spin at high speed to separate the pulp and juice. Slow or masticating juicers crush and grind the fruits and vegetables to extract the juice, then filter out the pulp. They're called slow juicers because they don't spin rapidly, but they still only take minutes to produce juice! Slow juicers produce drier pulp than centrifugal juicers, and extract more juice from leafy greens like kale. A slow juicer tends to be less frothy.
About the Breville Juicer Giveaway
We are giving away one Breville BJS600XL Fountain Crush Masticating Slow Juicer! You can read more about the Breville BJS600XL Fountain Crush Masticating Slow Juicer HERE. This Breville Juicer retails for $599!
This Giveaway is Open to US residents Only, You must be 18 years or older to enter. The Giveaway Ends at 11:59 PM EST on July 31, 2015. All the bloggers on the Rafflecopter entry form have pitched in to buy this Breville BJS600XL Fountain Crush Masticating Slow Juicer for one lucky reader to win!
Enter for your chance to win on the Rafflecopter below:
Disclaimer: This blog and any participating blogs did not receive compensation for the published material in this post. No purchase required to enter this giveaway and there is a limit of one person entering per household. Void where prohibited. Odds of winning are determined by the number of valid entries received. Winner will be chosen by Random.org and will be emailed via the email address used to enter the contest. New winner(s) will be chosen if original winner(s) has not responded within 48 hours of email notification. My Dairy-Free Gluten-Free Life is responsible for prize shipment, for questions about this giveaway contact Colleen. This giveaway is not administered, sponsored, endorsed by, or associated with Facebook, Twitter, Google, Pinterest or other social media outlet. Disclaimer is posted in accordance with the Federal Trade Commission 10 CFR, Part 255 Guides Concerning the Use of Endorsements and Testimonials in Advertising.