Easy Smoked Chicken Drumsticks Recipe (Dry Rub)
You will love these Smoked Chicken Drumsticks! A homemade, simple spice rub, smoky flavor and juicy meat. You can use this recipe to smoke chicken thighs, too.
Honestly, it really pays to learn to love dark meat chicken! It's so much more affordable! I love being able to grab a tray of chicken legs, chicken thighs or chicken quarters and put them on the smoker. It's the easiest way to feed a lot of people inexpensively.
This chicken leg recipe uses my Smoked Chicken Rub. It's a sweet rub with a kick of spice, using brown sugar, paprika, garlic powder, onion powder, cayenne pepper, and several other spices! It is the BEST dry rub for chicken and made thousands of times each week by blog readers!
Of course, if you have your own dry rub recipe, or would like to use a pre-made dry rub, you can! That's up to your personal preference.
Wondering what to serve with this simple smoked chicken legs recipe? Throw on this delicious Smoked Corn on the Cob, or make some homemade Smoked Mac and Cheese!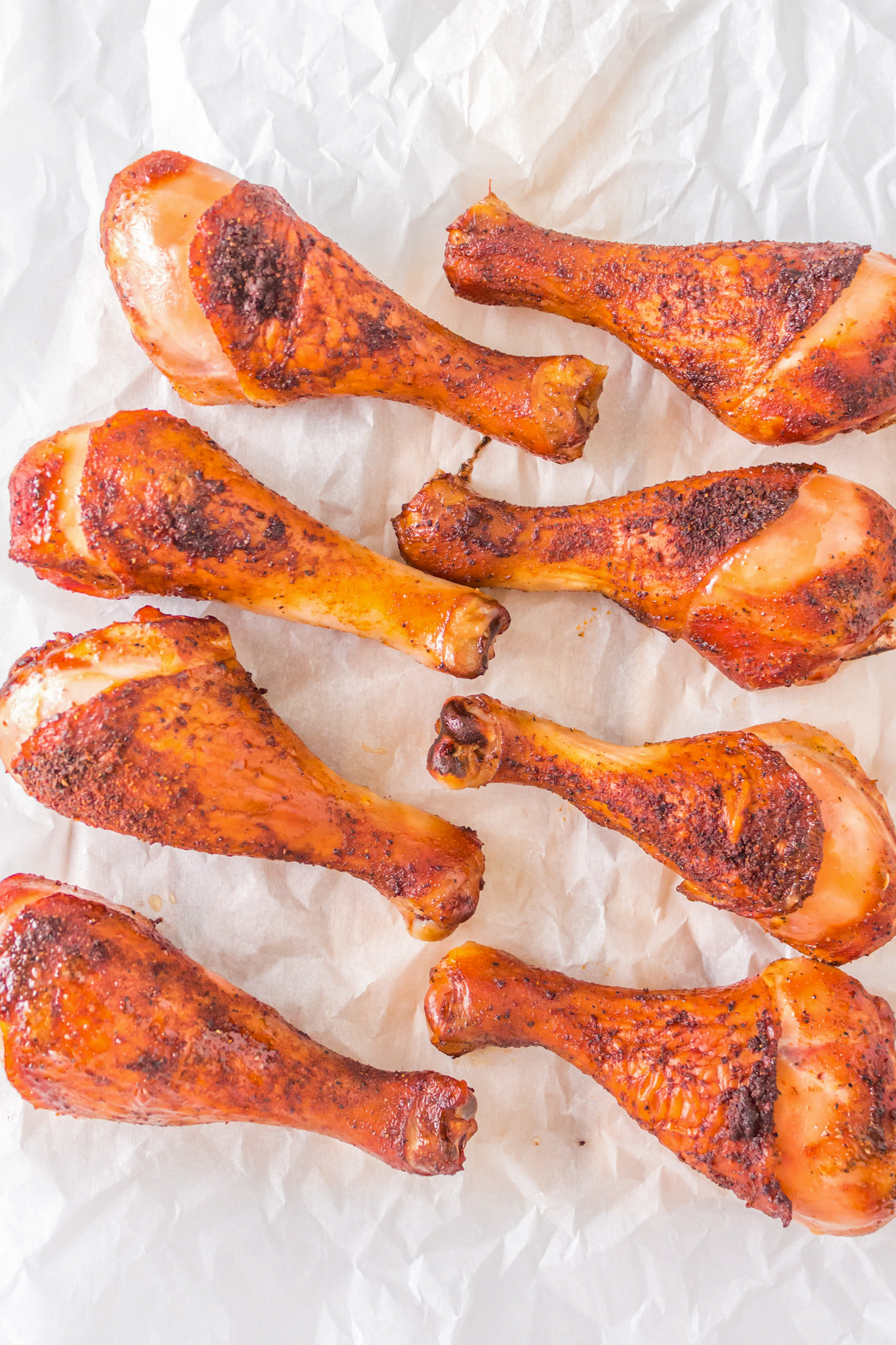 Frequently Asked Questions:
What temperature should I smoke my chicken drumsticks to?
You can pull your chicken drumsticks off the smoker any time after they've reached 165 degrees Fahrenheit with a meat thermometer in the thickest part of the drumstick. I prefer 175-180 degrees for extra tender meat.
How do I get crispy skin on my smoked chicken drumsticks?
The temperature in the smoker will not get you crispy chicken skin! You will need a higher temperature (think 400 degrees Fahrenheit or more). To get crispy skin, fire up your grill and grill the chicken legs over high heat for about 1 minute per side. This reverse sear technique will crisp up your skin perfectly!
What type of wood should I use for my smoked chicken drumsticks?
My favorite wood chips to use for this recipe is cherry wood or apple wood.
I do not recommend using hickory wood or pecan wood, as it's a bit too strong for chicken.
Do I need to flip the chicken while it's smoking?
No! You don't. Place the chicken directly on the grill grate and let it stay. This is indirect heat and it's not too intense, so it will be fine!
Can I use other cuts of chicken for this recipe?
Of course! I think chicken thighs, chicken wings or chicken quarters are a wonderful substitution! If you change the cut, make sure to check your temperature a bit early as your cooking time will vary. Making smoked chicken thighs is a great way to meal prep for the week.
Should I remove the skin from the chicken?
No! Leaving the skin on is how you keep the tender chicken meat juicy.
Smoked Chicken Drumsticks
Yield: Serves 8
Prep Time: 30 minutes
Cook Time: 2 hours
Total Time: 2 hours 30 minutes
These Smoked Chicken Legs are made with a simple, homemade spice rub and smoked to tender perfection!
Ingredients
4 pounds chicken drumsticks
2 tablespoons vegetable oil
Instructions
Pat chicken dry with a paper towel and place them on a baking tray.
Brush chicken legs with oil.
Prepare Smoked Chicken Rub in a small mixing bowl.
Evenly sprinkle the spices over the chicken drumsticks and rub into chicken skin to cover.
Allow chicken to rest on the counter to remove the chill while you prepare your smoker.
Prepare your smoker to roughly 250 degrees Fahrenheit, adding cherry or apple wood chunks. We do use a water pan.
Clean smoker grates and place chicken legs directly on the grates.
Cover smoker and cook until the internal temperature reaches at least 165 degrees Fahrenheit. We typically smoke to 175 degrees Fahrenheit, which takes me about 2 hours. You time can vary depending on how thick your chicken legs are.
Remove chicken from smoker and allow to rest for at least 5 minutes before serving.
Serve warm with your favorite bbq sauce.
Nutrition Information
Yield 8
Serving Size 1
Amount Per Serving
Calories 462
Total Fat 24g
Saturated Fat 6g
Trans Fat 0g
Unsaturated Fat 15g
Cholesterol 295mg
Sodium 311mg
Carbohydrates 0g
Fiber 0g
Sugar 0g
Protein 57g
The nutrition for this recipe is calculated by an app, and may be incorrect.