Crispy Fried Okra
This is the crispiest and BEST Fried Okra Recipe! This post includes cooking instructions for air fried okra, deep fried okra, pan fried okra and oven fried okra.
It took me WAY too long to try okra! Okra was not something that I grew up with. I can't say I was even aware of it until I was a young adult. But don't worry, I have more than made up for the lack of okra in my early life, and it's a favorite food for my husband!
Breading the okra is my favorite way to enjoy it. The crunchy, salty breading balances out the bite that okra provides. Although okra is a southern staple, you can find it on plenty of menus here in the Midwest, too.
"I love your recipe for fried okra never made it before, we all loved it. I will be making it again for sure."

Betty, Pinterest User
When is Okra Season?
Okra is ready to be harvested about 2 months after it's planted. In Missouri, that means we have fresh okra in late June, July and August. If you don't garden, it's usually a very affordable vegetable to purchase at the farmer's market or grocery store!
We pick the okra pods from our garden when they're 2-3 inches long. If you have smaller pods, reduce the cook time by just a bit to compensate for their size.
"It was so good!! Can't wait to make it again!"

Missy, Pinterest User
FAQ's
Can I use Frozen Okra to make Fried Okra?
Yes, of course! I have used a bag of PictSweet frozen okra to make this recipe. But, you will need do thaw it first to get the coating to stick well. Before coating with the egg and flour/cornmeal mixture, be sure to completely de-thaw the sliced okra. It will have a slimy texture, and be a little gross to touch. That's normal, and totally okay. It will still be delish!
Once thawed, you will need to pat the okra with paper towels several times to get it as dry as possible before proceeding. You can also use this method to fry green beans. These are delicious dipped in ranch dressing or hot sauce!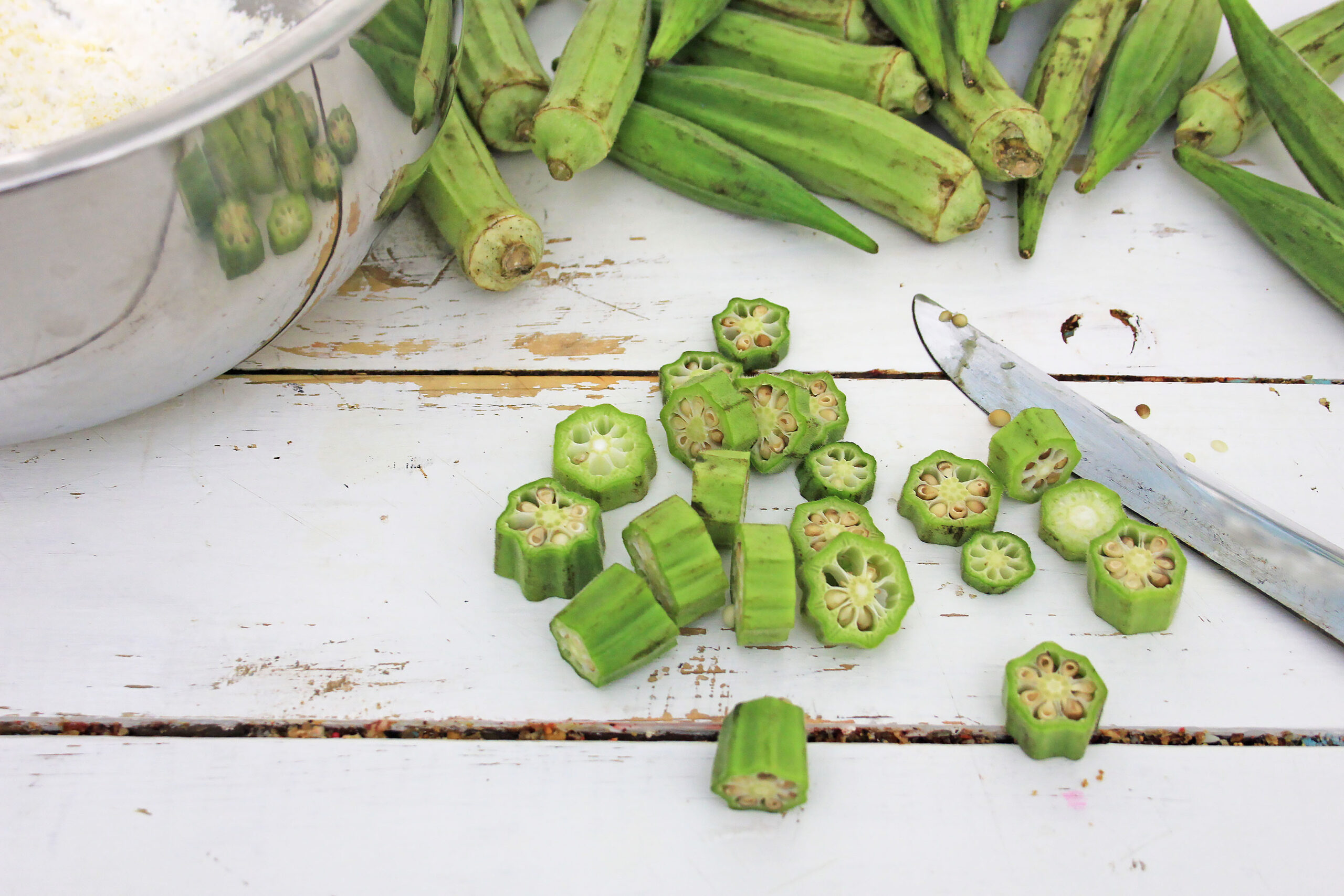 Is Okra Good for You?
YES! Okra is a very nutritious vegetable. It's full of vitamins and minerals, and antioxidants. It helps your digestion and is packed with Vitamin C!
Fried Okra Nutrition Information
If you are an occasional dieter like me, you know how hard it is to estimate the calories and nutritional content of foods you fry at home! A little oil is retained in the breading, but it's very hard to accurately estimate how much oil is retained. These are the calories I generally use:
In one cup of deep fried okra or pan fried okra, there are about 175 calories, 13 grams of carbs, and 9 net carbs.
If you air fry or bake your okra instead, the calories are reduced by about half, with one cup having 80-90 calories.
What oil should I use?
For deep frying, try peanut oil.
For pan frying, I recommend avocado oil, canola oil or vegetable oil.
Do not use olive oil as it does not have a high enough smoke point for frying.
Flour substitutions:
For gluten free fried okra, use a gluten-free flour substitute. I like Bob's Red Mill 1:1 blend.
If you want to make keto fried okra or paleo fried okra, try subbing chickpea flour.
How to Air Fry Okra in the Air Fryer
Want to have crispy fried okra with less oil? I've got you! Air Fryer fried okra is a healthier alternative to traditional fried okra. The full instructions are below in the recipe card.
Leftovers Storage
If you have leftovers, store refrigerated in an airtight container for up to 3 days.
Love this Air Fryer Okra recipe? I think you'll also enjoy my Deep Fried Cajun Turkey or these Air Fryer Chicken Thighs!
Crispy Fried Okra
Yield: 8-12 servings
Prep Time: 15 minutes
Cook Time: 10 minutes
Total Time: 25 minutes
Fried Okra is one of summers best treats! It's a great appetizer or side dish, and is super easy to make! This post includes options for deep fried okra, pan fried okra and oven fried okra! 
Ingredients
For the egg wash (Step 1):
1 egg
1 teaspoon salt
1 teaspoon black pepper
1 teaspoon Cajun seasoning
1 teaspoon garlic powder
For the coating (Step 2):
1 cup all purpose flour
1 cup corn meal
1 tablespoon baking powder
Instructions
Wash okra and trim the ends off.
Cut okra into pieces about ¾ wide.
In a large mixing bowl or Ziploc bag, whisk the egg, salt and pepper and seasonings. Dredge okra in the seasoned egg wash by adding the cut okra and tossing to coat.
Add dry ingredients (flour, cornmeal and baking powder) into a shallow dish and stir to combine.
Gently toss the okra in the flour and cornmeal mixture, turning each piece over with a fork. Toss until well combined and completely coated. Add more flour if needed.
For Deep Fried Okra: Fill your fryer or Dutch oven with oil to the suggested fill line, and heat until hot. Fry okra in small batches, making sure that each piece of okra is not crowded by other pieces. When golden brown and crispy (about 2 minutes), remove from the hot oil and drain on paper towel before serving.
For Air Fried Okra: Spray air fryer basket with cooking spray. Add breaded okra in a single layer, then spray the okra with cooking spray. Air fry at 390 degrees Fahrenheit for 4 minutes. Shake the okra and spray again with cooking oil spray. Air fry for an additional 4 minutes, or until the okra is crispy. The okra may not turn golden brown due to the lack of oil used in cooking, but it should get crispy. Depending on the size of your air fryer, you may need to air fry several batches.
For Oven Fried Okra (baked): Place breaded okra on a greased baking sheet. Bake at 375 degrees Fahrenheit for 15-20 minutes, until it's golden brown.
For Pan Fried Okra: Fill a heavy duty cast iron skillet with a shallow amount of canola or vegetable oil, and heat on medium high. Fry okra in small batches for 5-6 minutes on each side, until golden brown. Remove from pan and allow to drain on paper towel before serving.
Notes
You can also add a little cayenne pepper or hot sauce to the batter to give it a kick!
Please do not omit the baking powder, as it's an important piece of making the batter crispy!
Nutrition Information
Yield 12
Serving Size 1
Amount Per Serving
Calories 107
Total Fat 1g
Saturated Fat 0g
Trans Fat 0g
Unsaturated Fat 1g
Cholesterol 16mg
Sodium 332mg
Carbohydrates 21g
Fiber 4g
Sugar 3g
Protein 5g