This Pork Banh Mi Bowl is the EASY weeknight recipe you're looking for! Quickly sauteed pork with flash-pickled veggies, it's ready in about 10 minutes!
We recently moved our offices at work. It was an exciting move for us, but it also further proved to me how much I love living in Kansas City. We moved a whopping one mile and we're in a totally different food scene!
Our old office was in an area of town that's full of soul food and diners. But, the new office is near both Vietnamese and Italian settlements, so we have a lot of those cuisines. And man, it's so affordable! Nothing fancy, but I can get an enormous bowl of beef pho, a banh mi sandwich, or an italian sub for about $7 and be stuffed! Furthermore, I can walk everywhere! So needless to say, I'm a very happy girl!
Whatever I've been eating for lunch typically provides me the inspiration I need for dinner. The big difference is, unlike these AMAZING hole-in-the-wall restaurants cooking up everything from scratch, I'm trying to get dinner on the table as quick as possible. And, I have a kid, a husband and animals underfoot.
This Pork Banh Mi Bowl is ready in 10 minutes. That's not a typo, or an exaggeration. 10 minutes. If you're slow at chopping, maybe 12.
Making Dinner Faster with Veetee Rice!
One of the reasons this recipe is so quick is Veetee Dine In Rice. It is a seriously a life changer. This rice is perfectly cooked and ready to go! You just have to pop it in the microwave for 2 minutes, then fluff it with a fork a bit.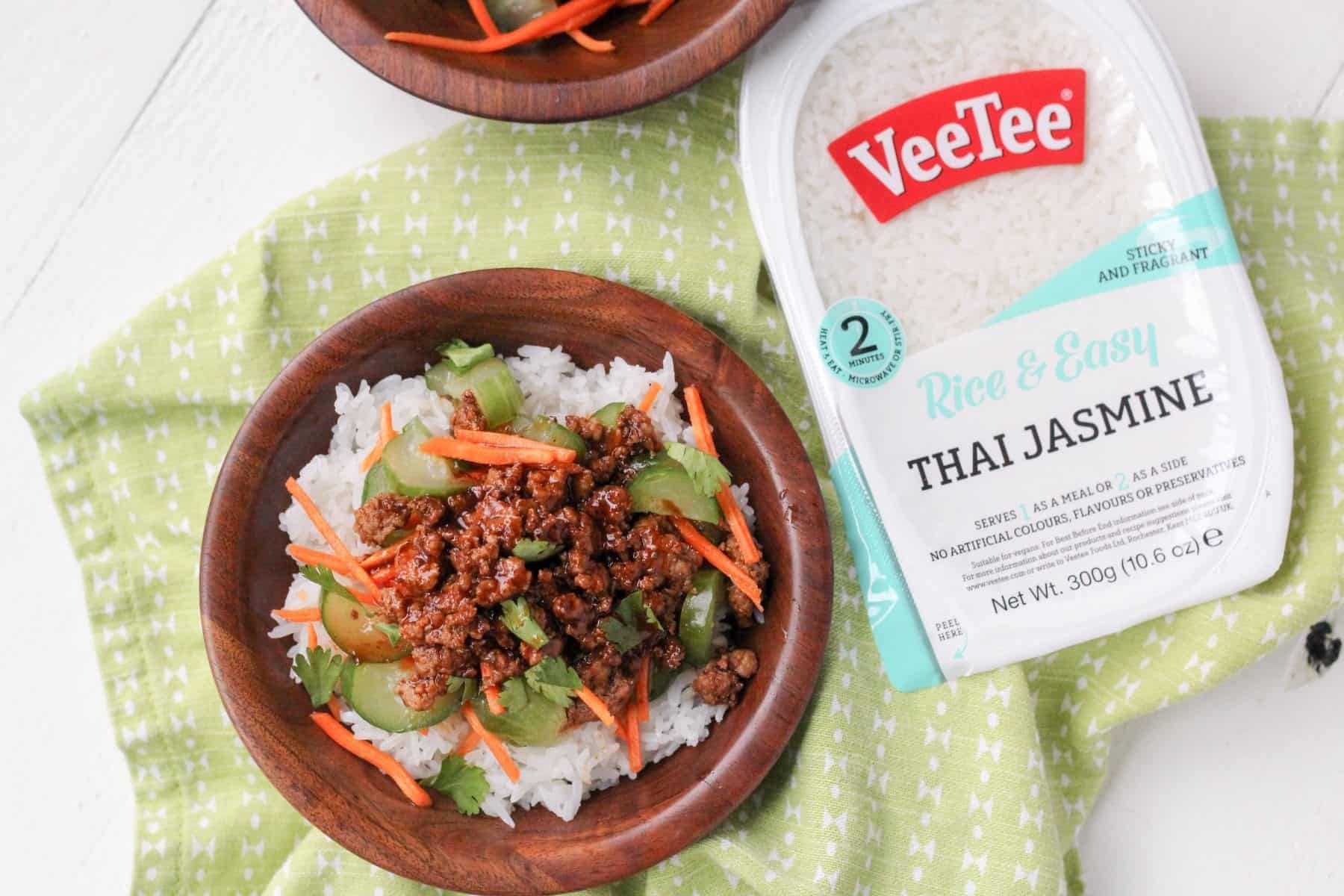 I used the Thai Jasmine Rice as a base for my Asian Chicken and topped it with green onions and sesame seeds. Other varieties of Veetee Dine In that would work well with this recipe would include Long Grain Rice or Whole Grain Brown Rice and Quinoa.
Check here to see if your local store carries this awesome rice, and I hope you enjoy it as the base for this awesome, easy Pork Banh Mi Bowl!
Pork Banh Mi Bowl
THIS PORK BANH MI BOWL IS THE EASY WEEKNIGHT RECIPE YOU'RE LOOKING FOR! QUICKLY SAUTEED PORK WITH FLASH-PICKLED VEGGIES, IT'S READY IN ABOUT 10 MINUTES!
Ingredients
1 package (10.5 ounces) Veetee Dine In Rice - Microwavable Thai Jasmine
2 small cucumbers
¼ oz. cilantro
3 oz. matchstick carrots
1 fl. oz. rice wine vinegar
1 teaspoon sesame oil
12 oz. ground pork
¼ teaspoon ground ginger
¼ teaspoon garlic powder
1 teaspoon sriracha sauce
2 ounces teriyaki sauce
Instructions
Cook VeeTee Jasmine Rice in microwave, following package instructions.
Trim cucumber, halve lengthwise and then quarter. Chop cilantro.
Add cucumber, carrots, vinegar and a pinch of salt to a small bowl. Toss to coat, allow to rest.
Add sesame oil to a large non-stick pan, heat to medium high.
Add ground pork, ginger and garlic to hot pan. Cook, breaking into crumbles, for 4-6 minutes until meat is cooked through. Add sriracha and teriyaki sauce, and cook, stirring for about 1-2 minutes to glaze cooked meat.
Top rice with pork and pickled vegetables, then garnish with cilantro. Serve immediately!