5 Bacon Appetizers to Include on your Holiday Bacon Bar!
Five amazing bacon appetizers to make your holiday Bacon Bar a surefire hit!
My love of bacon is very well documented. I've posted so many bacon recipes here at Blackberry Babe, that one of my lifelong girlfriends has started calling me Bacon Babe! No joke. The holidays are the perfect time to up the stakes on your bacon game. My friends at Smithfield recently introduced to the idea of a "Bacon Bar" for holiday parties, and I absolutely love it! A beautiful holiday table full of delicious bacon appetizers and treats is the PERFECT way to wow your guests this holiday season. Whether you go simple or cook up some elaborate bacon appetizers, your friends definitely won't forget the year that you had a bacon bar at your holiday party!
I've put together my top bacon appetizer ideas for your fabulous Bacon Bar. Here are my favorites:
Bacon Wrapped Tenderloin Bites from Joyful Healthy Eats
An appetizer everyone will be fighting over! Tender Bacon Wrapped Tenderloin Bites charred on the grill and served with a homemade creamy horseradish sauce! OMG! Get the recipe here.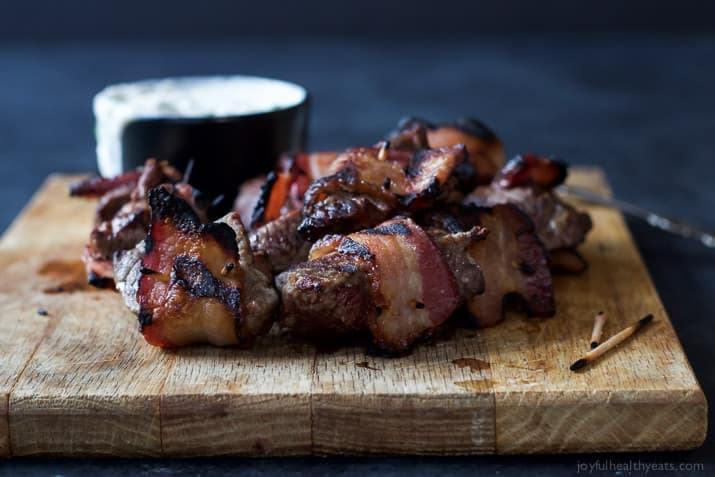 Candied Bacon Baked Brie by Blackberry Babe
Bacon is candied in brown sugar, then tops ooey gooey baked brie. The most decadent appetizer you'll ever eat! Get the recipe here.
Bacon Beer Cheese Dip
I mean, seriously… How in the heck can you go wrong with BEER, BACON and CHEESE?! It's not possible. This recipe is so crazy easy it's elementary. Get the recipe here.
Just Bacon!
Bacon is good all by itself, right? I love the idea of including a few fun appetizers on your Bacon Bar, but you should also just include bacon by itself, in all of its glory!
Lucky for us, Smithfield Bacon has 10 delicious varieties that you can cook up and serve to your guests! I love the Peppered Brown Sugar Bacon. Serve your favorite varieties with an assortment of jams and biscuits. Easy, peasy! And, you can find printables, recipes and decor ideas on Smithfield's Bacon Bar site!