This healthy Blackberry Creamsicle Smoothie combines blackberries, orange, vanilla and more fruit for a super healthy breakfast!
I obviously love blackberries. They're present in so many of my recipes, and of course, I named my blog after them! I also love working them into my daily smoothies, for the awesome, tart flavor, and I LOVE the purple color! This Blackberry Creamsicle Smoothie combines banana, orange, blackberry and milk into a creamy, fruit based smoothie!

I was a smoothie skeptic for a long time. I thought it was just a trendy thing, and never bothered to try them. Recently, when I started to incorporate healthy breakfast into my daily routine, I had several people tell me that smoothies were the way to go, so I gave them a try. I started going through a local smoothie drive through to try out flavors, because honestly, I didn't even know where to start. One of my smoothies that I dried was an orange creamsicle smoothie with vanilla protein powder, milk, orange juice and banana. I bought an individual sized blender to make smoothie creation super easy, and started replicating that smoothie at home, and trying different variations. My wallet thanked me for making these smoothies at home, because they are SUPER expensive to get from smoothie joints!
Adding blackberries may seem unusual, but it is seriously a game changer. I never returned to the original recipe and started making this creamsicle smoothie at home! If you make this recipe, I'd love to hear what you think!
If you love this Blackberry Creamsicle Smoothie recipe, I think you'd also like my PB&J Smoothie recipe, or these Quinoa Buttermilk Pancakes!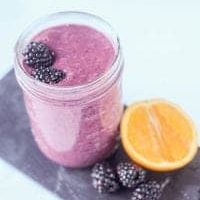 Blackberry Creamsicle Smoothie
Ingredients
1 cup frozen blackberries, unsweetened
½ cup vanilla almond millk
½ medium banana
½ fresh orange, peeled
Instructions
Combine all ingredients in blender. Blend until smooth, serve cold.
Notes
*I use frozen blackberries
Optional: Add ½ scoop vanilla protein powder.
Want more recipes using blackberries? Try this
Blackberry Dump Cake
, or these
Blackberry Almond Custard Cups.