This shop has been compensated by Collective Bias, Inc. and its advertiser. All opinions are mine alone. #StartWithJifPowder #CollectiveBias
This PB&J Smoothie uses strawberries, banana, Jif Peanut Powder and Silk Almond Milk to create a unique peanut butter and jelly flavor!
I saw the funniest image on Facebook the other day. It described the period between Christmas and New Year's as being the time of year when you "are full of cheese and have no clue what day it is." I think that's true for most of us! It's no wonder that most of us see each new year as an opportunity to re-set our minds and bodies. I will certainly be joining most of you in some type of resolution, but this year, I'm going to try something a little different. I don't have a specific goal in mind, like losing 20 pounds, or giving up a certain food or drink. But, I do have some habits that I am going to focus on in 2016, like starting the day with a delicious smoothie.
In 2016, I plan to focus on forming three things habits: sleep, regular fitness, and eating frequently. Sleep probably isn't a surprise. I'm the mother of a toddler, and sleep can be sparse between teething, illness and constant sleep regressions. In 2016, I am aiming to be in bed by 10:45 each night. Getting in bed by then is easy, staying off the phone is the hard part! For regular fitness, my husband and I joined an awesome gym this fall. I've been attending Les Mills classes (LOVE them!) 1-2 times a week. They offer ample times, and my husband has promised to help more with daycare pickup and drop-off so I can fit in a workout three times a week. And finally, for the hardest one, I would like to eat more regularly. My mornings are hectic and I sometimes work through lunch. Some days, the first time I eat is between 2-3 PM, and I'm always STARVING and half crazed. I make some pretty poor choices when this happens. I've found that if I eat frequently, small meals or snacks every 2.5-3.5 hours, I make really good choices and generally never get hungry or moody. So, I'll be building my repertoire of super easy, nutritious meals and snacks to get me through breakfast and lunch without the rollercoaster eating! So, more sleep, more exercise, and less hangry outbursts. Think I can do it?
I have two delicious smoothie recipes ready to share, and I'm starting with this delicious PB&J Smoothie! To make this smoothie taste a bit like Peanut Butter and Jelly, I used frozen strawberries (strawberry jelly, y'all!) I bought an individual sized blender for morning smoothies, and I have the freezer loaded up and ready to go! One thing that I will be adding into my smoothies for extra protein is Jif Peanut Powder. If you haven't heard of peanut powder before, it's a relatively new product and there are a few brands avaiable now. Jif's peanut powder has no added salt or sugar and is made from just one ingredient- peanuts! I LOVE peanut butter in smoothies, but the peanut powder has 85% less fat, less calories and less sugar, so it's a great way for me to get that awesome peanut flavor.




I did not add sugar or honey to sweeten this smoothie, I'm relying on the natural sweetness of the strawberries and bananas. If you like a super sweet smoothie, just add a sprinkle of sugar and stir! I'd love to hear what you think about Jif Peanut Powder! I think it's a great way to add some easy protein into your morning routine!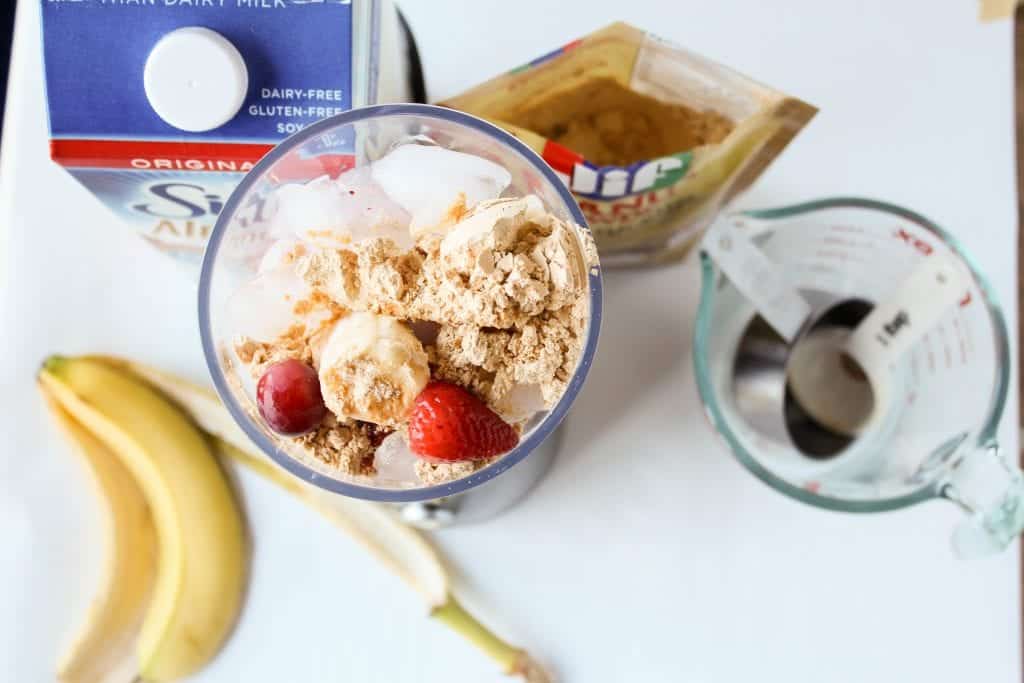 Yield: 2
PB&J Smoothie
Ingredients
1 banana
1 cup frozen strawberries (or substitute ½ cup frozen strawberries and ½ cup ice to save calories)
2 tbsp Jif Peanut Powder
½ cup Silk Almond Milk
a handful of grapes (optional)
Instructions
Place all ingredients in blender, blend. Serve while chilled.
Not sure where to find Jif Peanut Powder? I found it at Walmart, in the peanut butter section. It was on the top shelf!