These hot chocolate cookies with marshmallow buttercream frosting are a super fun update on the traditional hot chocolate drink! Plus, they are VERY easy, using a hack from Toll House cookie dough.
It's officially December, and I'm already dreaming of a white Christmas, if you can't tell by these hot chocolate cookies! I was reminiscing with family the other day about our favorite Christmas songs. Is there a song that instantly makes you think of your childhood during the holidays? For me, it's "Blue Christmas" by my main man, Elvis. Growing up, we had a little boom box in the kitchen, and my Mom had the Elvis Christmas CD on the ready. Just thinking about that song brings a smile to my face.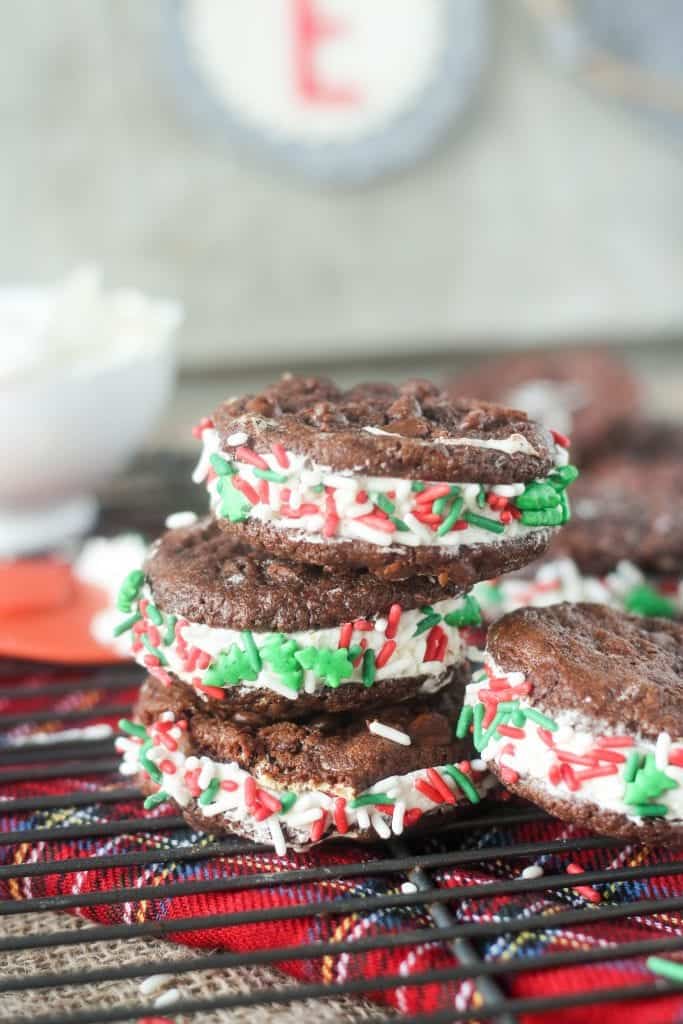 You know what always went with our annual listening of Elvis' Christmas? Hot chocolate. Or hot cocoa, if you're fancy. Like her trusty Elvis record, Mom always had hot chocolate on hand throughout the holidays.Whether it was homemade, or the kind with the tiny crunchy marshmallows (LOVE THEM), I was in Christmas heaven with my hot chocolate and my Christmas tunes. What was I missing? These hot chocolate cookies with homemade marshmallow buttercream. I just didn't know it, yet.
When Tollhouse asked me to try some of their awesome holiday goodies, I instantly gravitated towards their Hot Cocoa Cookie Dough. This is the refrigerated break and bake dough that you find in the deli coolers. It's to DIE for, with a rich cocoa flavor, marshmallows and Toll House mini chocolate chips. I make a mean marshmallow buttercream frosting, and I just knew that the cookie dough and my frosting would be a match made in heaven. And thus, this recipe, Hot Chocolate Cookies with Marshmallow Buttercream Frosting was born!
Continue reading for the recipe and some tips on putting these sandwiches together!
I do want to share a few tips. While the store bought cookie dough makes this is a very easy treat to pull together, you can make it even easier by doing just a few things. You will definitely want to bake the cookies for the entire duration stated on the package. Keep a close eye on them. You want them to be firm throughout so they can hold up, no gooey centers. Make sure they are completely cooled before handling them. The marshmallow frosting is very stiff, which helps it hold it's shape in the cookie. I recommend putting a large dollop of frosting on one COOLED hot chocolate cookie, placing the other cookie on top of the frosting, and gently pressing down on the top cookie to spread out the frosting. The frosting will slighty ooze out the sides. Then, use a spatula or spoon to even out the frosting.
How to decorate? Well, that's up to you! I used festive holiday sprinkles. I think crushed candy canes or Tollhouse mini chocolate chips would also be great on these hot chocolate cookies!
Hot Chocolate Sandwich Cookies with Marshmallow Buttercream
Amazingly easy hot cocoa cookies with a marshmallow buttercream filling.
Ingredients
For the cookie
1 package Toll House Hot Cocoa Cookie Dough (refrigerated dough)
For the marshmallow buttercream frosting
1 cup butter, softened
½ teaspoon almond or vanilla extract
1 and ½ cup powdered sugar
7 and ½ ounce jar of marshmallow creme/fluff
4-5 tablespoons sprinkles, crushed candy canes or chocolate chips for decoration
Instructions
Bake cookies according to package instructions. I smoothed the dough into balls before placing on baking sheet. Make sure cookies are completely cooked through, no gooey centers. Allow to cool completely before manipulating into sandwiches.
For the frosting, use a stand mixer or hand mixer, cream the butter until fluffy. Add almond or vanilla extract.
Slowly add in powdered sugar, ½ cup at a time, beating with mixer continually.
Slowly add in marshmallow fluff, beating continuously.
To assemble, lay bottom half of cookie sandwich on flat surface. Scoop about 2 tablespoons of marshmallow frosting onto cookie. Place top half of cookie sandwich on the frosting, and press evenly with a flat hand to spread the frosting out. Use a spoon of spatula to swipe any frosting that hangs over the edge of the cookie.
Roll the cookie in sprinkles or other decoration if desired.
Notes
Marshmallow frosting is very stiff, which can make it challenging to spread, but helps the cookies hold their shape.