Last Updated on
Oh boy. Where do I start with these adobo pork street tacos.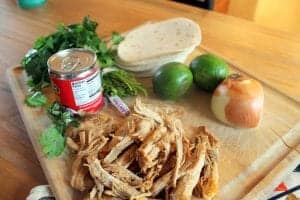 Sometimes, an idea strikes me like lightening. When that happens, I will not rest until I make it a reality. This recipe was one such idea.
I often use canned chipotle peppers, but haven't found a good use for the adobo sauce they are packed in. Usually, it gets thrown out! This is truly a waste, because the sauce is so flavorful and complex, but it is also very, very spicy. Recently, I made the hilariously awesome Chrissy Teigen's Spicy Marinade, which calls for canned chipotle peppers in adobo sauce. It's my favorite marinade for chicken drums or wings, but once again, I found myself grumbling as I threw out most of the unused adobo sauce.
This recipe tempers the heat of the adobo sauce with brown sugar and lime juice, which makes the spice level tolerable for the average human. I am not kidding you when I say that these are my idea of the perfect taco. The pork is tender. The sauce has a slow, burning heat to it. It's spicy without being painful. The brown sugar and lime juice really help tame it, while adding sweet and tart layers to the dish.
Layer grilled flour tortillas with the adobo pork, then top with chopped white onion, cilantro and a squeeze of lime. Perfection!
Adobo Pork Street Tacos
Sinfully delicious tacos! Spicy and sweet. Pork is cooked in the slow cooker, then simmered in a delicious adobo sauce with lime and spices. Topped with onion and fresh cilantro, these tacos cannot be beat!
Ingredients
8 small flour tortillas
1/2 cup of minced fresh cilanro
1/2 small white onion, diced
2 cups Perfect Pulled Pork in the Slow Cooker (see "Adapted From" link below)
1 can chipotle peppers in adobo sauce
2 limes
3 tbsp brown sugar
1 tsp cumin
1/2 tbsp garlic powder
Instructions
For the pork
In a small pan, add 1 tablespoon of the adobo sauce only, from the can of chipotle peppers.
To this sauce, add the juice of one lime, the brown sugar, cumin and garlic powder. Heat on medium until the brown sugar is melted and the sauce is bubbly. Stir frequently.
Taste for heat tolerance. If it is too spicy, add extra brown sugar and/or lime juice until it is to your liking. If it is not spicy enough, add more adobo sauce.
Add the pork to the sauce, turn sauce down to low heat. Allow to simmer for 10 minutes, covered.
For the tortillas:*
While the pork is cooking, heat a small saute pan on high. Grease lightly with a cooking spray.
Add a tortilla to the pan, heating for about 20 seconds, then flip to the other side for 20 seconds.Tortilla will start to brown and air bubbles will start to form.
Once each tortilla is warmed, store it in a warm towel or tortilla warmer.
Place a small scoop of pork on each tortilla. Serve with onion, cilantro, and lime wedges for garnish.
Notes
*This is optional, but it makes the tortillas taste fresh made!